Embryo Freezing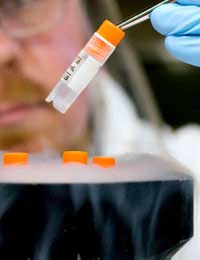 Embryo freezing or cryopreservation is one of the latest developments in the field of fertility research. This process, although not common in modern day society, offers mothers options for postponing pregnancy. Embryos form when a sperm penetrates the egg. With fertility treatment, this is usually done by invitro fertilisation. Invitro fertilisation is a fertility procedure where the egg is fertilised outside its natural environment. Although this technology may seem as if it came from a popular science fiction novel, it has been around since the early 1980s. In fact, the first successful cryo-preserved embryo birth occurred in 1984. Despite its long existence, this technology has resulted in only a small number of live births. Limitations include, cost, ethical and moral controversy, and risk of side effects.
Embryo Preservation
Embryo preservation is a delicate and complex process involving multiple steps. Through the process of invitro fertilisation, the egg and the sperm, unite under controlled conditions within a fertility laboratory. This embryo is then frozen to extremely cold temperatures, using liquid nitrogen. Nitrogen exists as a gas in the natural environment, but in extremely cold temperatures it can exist in liquid form. Under such extreme conditions virtually all biological processes cease, include the process of cell death. Under these specialised conditions the embryos can remain dormant until such time when pregnancy is desired. Through a slow thawing process the embryos are revived and the biological processes are resumed.
Advantage of Embryo Freezing
Embryo freezing provides women the option to delay pregnancy without risking further damage to the egg. Advanced maternal age can cause the ovaries to age and deteriorate with time. In today's modern society, child birth is increasingly being postponed for various reasons. Cryopreservation of embryos enables a couple to utilise young healthy eggs, fertilise them and keep them preserved until they are ready for a child. This option is also beneficial for women who are at risk of developing ovarian cancer, which requires the removal of the ovaries for treatment.
Disadvantages of Embryo Freezing
Embryo freezing is also associated with risks which need to be considered carefully. Since this process is so specialised, very little data is available regarding the long term effects of this procedure. Also this process is not without failure. The process of cryopreservation is so delicate and complex that the fragile embryo may not survive the entire process. The risk of birth defects and genetic abnormalities has also been raised; clinical data however shows no such adverse effect as a result of this procedure. This highly controversial issue raises some ethical and moral concerns as well. These questions as well as cost need to be weighed carefully. Cryopreservation is an expensive procedure, which is conducted in only few specialised fertility centres.
Cryopreservation offers couples added options when exploring treatment options for fertility. It also allows couples more flexibility with regards to family planning. They no longer have to be contained by the proverbial "biological clock". Women who are in their late 20s and early 30s can consider this option especially if they wish to have multiple children.
You might also like...