In Vitro Fertilisation (IVF)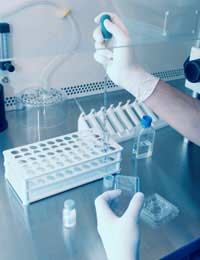 In-vitro Fertilisation or IVF as it's better known, is a form of assisted conception technique that can help those with fertility problems have a baby. But what exactly is involved?
If you've been unsuccessfully trying for a baby for at least one year and have seen a GP or specialist about fertility treatment, you may well have been recommended to try IVF. The method was developed in the 1970s and the very first IVF baby was Louise Brown, born in July 1978. Since then, thousands of couples have successfully become parents and about 8,000 IVF babies are born in the UK each year.
What's Involved?
Before treatment commences, you'll have a full assessment at a fertility clinic and be told all about what's involved so you're clear from the outset.
A cycle of IVF takes about four to six weeks to complete. When the treatment begins, a woman is given fertility drugs to stimulate the production of eggs. Ultrasounds and blood tests are performed regularly to check how the eggs are developing. When they're deemed ready to be removed, a general anaesthetic will be given and a doctor will surgically remove them from the ovaries with a fine hollow needle. The eggs are then mixed with the man's sperm and left to fertilise in a laboratory (this is where the term 'test tube baby' came from, as it was often assumed that the sperm and eggs were mixed in a test tube).
Whilst the fertilisation is taking place, the woman is given hormones to prepare her body, and especially her uterus, for pregnancy. Fertilised eggs will form a ball of cells, called an embryo, and when they're ready two or three embryos are implanted back into her uterus to, hopefully, achieve pregnancy. If any extra embryos have been formed, these are often frozen and used in future IVF cycles, where the first or more doesn't work.
How Successful is it?
It's the key question in many people's minds, but isn't always straightforward or easy to answer. The success of IVF depends on several factors, with key issues being the type of fertility problem involved and the age of women. Younger women have a higher chance of conceiving than older women – one in four women aged under 30 successfully have IVF babies, compared to one in 10 over 40s. However, the average chance of having a baby with IVF is about 20% per round of treatment with fresh embryos. Although frozen embryos are often used too for subsequent rounds of treatment, the chance does drop to 12%.
Are There Any Risks or Side-Effects?
As with any form of treatment, potential risks and side-effects do exist. More than one embryo is often placed in the uterus, so there's a higher chance that you could end up having twins or multiples, rather than a single pregnancy. Multiple pregnancies carry extra risks themselves, upping the chance of pregnancy complications or miscarriage.
Mild reactions to the drugs do occur sometimes, causing symptoms such as headaches, mood swings and hot flushes. A more severe reaction is called Ovarian Hyperstimulation Syndrome (OHSS), where cysts develop on the ovaries and fluid collects in the stomach. Symptoms of this include swelling in the stomach, pain, vomiting and nausea.
Sometimes it's also possible to have an ectopic pregnancy, whereby the embryo develops in a fallopian tube, rather than the womb. Signs of an ectopic pregnancy include severe stomach pain, vaginal bleeding, fainting, feeling lightheaded and sickness. If you're having IVF and develop any unusual or concerning symptoms, then it's important to speak to your doctor immediately.
Undergoing IVF can be emotionally challenging too, especially when treatment cycles are unsuccessful. You should receive counselling from the clinic you attend, but there are also other support groups available nationwide that you may benefit from attending.
You might also like...