Donor Insemination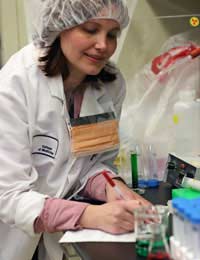 Couples facing problems with male fertility can still fulfil their dream of being parents. Through donor insemination couples can use an external source for sperm to artificially inseminate a woman's natural ova. The procedure can also help single women desiring motherhood as well as lesbian couples who wish to start a family.
This process, although helpful in turning couples into parents isn't without risks and concerns. Couples need to understand the ramifications of obtaining donor sperm to get pregnant and how this is likely to affect their child. The ethical, legal, medical and personal aspects of this decision need to be addressed.
For couples, especially the male partner, the idea that the child isn't a creation of their own genetics may lead to stress, feelings of inadequacy and even resentment. The ethical issues of using artificial techniques to genetically produce a child may need to be addressed as well.
Donor insemination also carries a legal aspect since it affects the child which is being created. Laws regarding the legal rights of the child in relation to knowing his "true" father vary from country to country. However, despite these obstacles, millions of couples and individuals have fulfilled their dream of becoming parents via donor insemination. Donor Insemination carries a success rate of approximately 70-80%.
Obtaining Donor Sperm
Donor insemination uses donor sperm from an anonymous man. Donor sperm is available at specialised centres called sperm banks. Although the donor person may remain anonymous, an extensive biophysical profile is available for each donor. Physical attributes of the donor; such as height, weight, skin and hair colour is made available.
Other aspects of the donor are also available such as his level of education, interests and hobbies. This information can help the person decide on a specific profile, which best fits, their expectations. More importantly sperm banks have an extensive screening process, which involves testing the donated sperm specimen for sexually transmitted diseases, such as HIV, and also Hepatitis B and C. This screening can also test for genetic disease such as cystic fibrosis and Sickle Cell Anemia.
Donor sperm from sperm banks is not the only option; surrogate sperm donors, are individuals who are selected by the couple or single woman. These individuals may be a friend or an individual whom the couple feels is the best fit for them. This approach may offer a more personal touch but it may lead to problems in the future, since the donating individual may still be a part of the couple's life.
Legal Aspects of Donor Insemination:
Laws regarding donor insemination vary from country to country. In most places the anonymous donor relinquishes his rights of parenthood over any child conceived using his donated sperm. This is reassuring for prospective parents exploring donor insemination, since there is no risk of infringement of couples' own rights over their child. In some places the child may have the right to obtain information regarding their "true father" usually around the age of 18.
Special Considerations for Lesbian Couples
For lesbian couples the decision is twofold; one deciding on the sperm donor and the other, deciding on whose ova will be used during the insemination process. Such issues should be addressed before undergoing the insemination process. It is also important for women to undergo a medical evaluation to determine if there are any obstacles, which may complicate the insemination process.
You might also like...