Prescription Medications And Infertility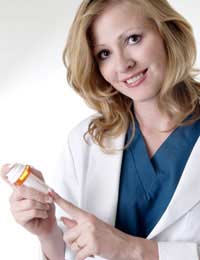 It is often misunderstood that as much as prescription medications are intended to help us with one problem they can in fact create a whole host of new problems that can cause the body harm.One such problem that can be created by the use of prescription medication – and indeed the over use of prescription medications – is infertility.
Infertility is something that many women and men can suffer from but fail to take into account the fact that prescribed medication can be a contributing factor in their infertility.The problem is also amplified if the prescription medication being taken leads to another condition such as a hyperactive thyroid or reduced oestrogen levels.
Medication to Watch Out For
Some of the prescribed medications that cause infertility – or can certainly contribute to it – are:
Anti Depressants
Steroids
Blood Pressure Medication
Muscle Relaxants
Impotency Medication
It is advisable that if you are taking any of the aforementioned medications then you should consult your GP before trying to conceive; this will give both you and your doctor an idea as to what you can expect throughout the process.
Likewise if you are taking these medications – and have been for a period of time – it is advisable also to consult your GP and ask as to whether or not there are alternative treatments or medications available which may reduce the risk of infertility.
Your doctor should be able to assist you and – where possible – help you affect a successful and trouble free transition from one medication to another.
The side effects of some of these medications – particularly in relation to infertility include:
Menstrual problems
Low sperm count
Erectile Dysfunction
Low egg count
Hormone Imbalances
These are problems which may not at first be visible – and for the most part – wont because of their nature but through time with persistent use of prescribed medications these problems may well manifest themselves.If they do then visiting your GP and asking for their help and advice is a must.
Taking Action
You must never try and deal with such conditions or problems without consulting your doctor and also it is imperative that you do not take other medications without your doctor's agreement.
Another common reason for infertility is that a large number of us take medications that are bought over the counter for ailments that we think we can treat ourselves. This is not always the best policy and although your doctor may prescribe over the counter remedies for cold, flu, migraine, and toothache etc, it is still very worth while consulting them before embarking on such a course of self medication.
Also it is worth remembering that if you have been receiving chemotherapy treatments for a cancer – both it medication or radiotherapy – then your success rate for conceiving is reduced.
Again, with this in mind, it is best to consult your doctor and seek his or her advice before trying to conceive or your consultant if you are still under hospital care.
Note also that although many people suffer from infertility and cannot conceive, the advances in medical science are such now that the chances of being able to conceive have been greatly increased over the last decade.
You might also like...