Freezing Sperm Fast: Why Does it Make a Difference?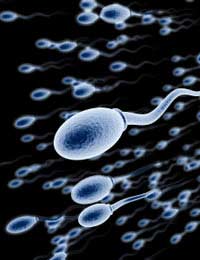 Thinking about the many and varied reasons why men today might want to freeze their sperm seems normal but 100 years ago, freezers just didn't exist in domestic or medical situations. Since the advent of technology to reduce the temperature of biological tissue, freezing has gained many different applications. Although freezing of body tissues and samples is now common, we are still learning about the best way to store materials at low temperatures. Recent research has suggested the freezing sperm samples very quickly may have several benefits, which were never anticipated.
Why are Sperm Frozen?
Men who want to donate their sperm to a sperm bank can do so for a nominal fee but most donors find it worthwhile to provide their sperm for couples who have fertility problems. Sperm needs to be frozen as it cannot be used for six months in infertility treatment. This allows time for small samples of sperm to be removed for important tests – such as the presence of infections. Some genetic screening is also done to avoid sperm being used from men who have an undiagnosed genetic condition.
Men also choose to freeze their own sperm to give them the chance of using it in fertility treatments such as in vitro fertilisation. Men who are facing a course of radiotherapy or chemotherapy treatment may do so because of the risks that the treatment may make them sterile. If a couple or an individual man decides to go ahead with a vasectomy, many clinics recommend thinking about storing a sperm sample in case circumstances change. Other problems such as having abnormal sperm, or a reducing sperm count can also lead to samples been frozen for special infertility treatments such as intra-cytoplasmic sperm transfer (ICSI).
The Method of Freezing Sperm
Sperm cells were first stored by freezing them in the 1970s. The maximum allowed for sperm to be kept is 55 years but few sperm samples are likely to be kept that long. Most are kept for a period of about 10 years. The temperature at which sperm are stored is much lower than a domestic freezer, which typically has temperatures as low as about minus 20ºC. Sperm are kept in liquid nitrogen, which maintains an even temperature of minus 196ºC.
It used to be thought that it was important to freeze sperm quite slowly so that the integrity of the cells was not lost. The sperm sample is first tested to make sure that there are viable and moving sperm in it, and then it is separated into smaller portions and each one is frozen in a different vial. This allows vials to be thawed for testing, while keeping some frozen for possible use in infertility treatments. The tubes, which also contain a substance called a cryoprotectant to keep the sperm in good condition while they are frozen, used to be introduced to nitrogen vapour at first, which reduced their temperature in stages. After about an hour in this intermediate stage, the sperm vials would then be plunged into the liquid nitrogen to complete the freezing process.
Fast Freezing and its Advantages
The percentage of sperm that can be recovered if the sperm sample is frozen slowly is around 35 per cent but it has been shown recently that fast freezing results in a recovery rate that is much higher – around 80 per cent. The same cryoprotectant is added but the plasma is removed, leaving only the actual sperm cells before vials are plunged straight into the nitrogen liquid, freezing them more or less instantly. This works well for sperm and has also been shown to be a better method for freezing embryos too. This would be a success story in itself but fast freezing also has some other quite unexpected benefits. Early studies have shown that the way the sperm are fast frozen – without plasma – makes it much less likely that men who are HIV positive can pass on the virus to their offspring. Of course, donor sperm are never used from HIV positive donors, but men who are HIV positive often want to father their own children safely. The technique also means that other viral diseases such as hepatitis B can't be passed on, giving the fast-freeze technique significant medical advantages.
You might also like...