Your Diet and Fertility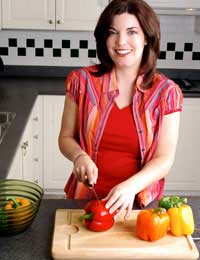 Lifestyle choices and good nutrition are important aspects in maintaining a healthy lifestyle. These decisions can especially affect the baby in the womb. Not only that, it can even play a role in the fertility process as well. Poor nutritional intake, which includes inadequate calorie intake and vitamin deficiencies, can be the root cause of infertility. Lifestyle choices such as smoking, drug use and alcohol use may also have a direct impact on fertility as well.
Nutrition and lifestyle choices are important for both the male and female partners. It's important for a couple to place emphasis on their nutritional routine while they are trying to conceive. Instead of focusing on a particular diet, they should focus on a highly nutritious diet to maximise adequate intake of protein, carbohydrates, unsaturated fat and vitamins and minerals.
Diet
Adequate calorie intake is an important part of fertility. The female menstrual cycle is influenced by a woman's nutritional status. Women who are underweight can have irregularities in menstruation. They are unable to maintain regular ovulation cycles and thus have difficulties getting pregnant. If the woman is underweight it may be best to first gain enough weight and normalise the menstrual cycle. Normal Basal Metabolic Index is 20-22. Women who are consistently below 85% of their Ideal body weight are at a greater risk of menstrual irregularities.
Zinc deficiency plays an important role in infertility. Zinc deficiency within a male reduces the volume of semen; if the volume of semen is less than the required volume then fertilisation is compromised. If the deficiency in zinc lies within the pregnant women, than there are greater chances of miscarriage and prolonged labour. Some food sources which contain zinc are seafood, beef, lamb, toasted wheat germ etc. The daily zinc requirement is approximately 10-15mg/day. Deficiency in zinc can present with skin changes, liver enlargement, anaemia and deficiencies within the immune system.
Folic acid is another important nutritional factor. This aids in the growth of the foetus and also prevents neural tube defects. Neural tube defects include abnormalities of the central nervous system; the brain and the spinal cord. Aside from its effect on the developing foetal nervous system; folic acid deficiency can also lead to miscarriage as well. If the woman is attempting to get pregnant she should maintain consistent daily intake of folic acid 4mg/day. Folic acid can be found in leafy green vegetables, chicken liver, beef liver, lentils, asparagus, papaya, broccoli and hard-boiled eggs. Beginning a dietary intake of folic acid should be initiated even before a woman knows she is pregnant. Women usually become aware of their pregnancy after 3-6 weeks. During this time the nervous system is already developing.
Lifestyle
Making appropriate healthy lifestyle choices are also crucial, in maximising the chances of fertility. For men, cigarettes and marijuana use are linked to abnormalities in sperm health. Toxins in these substances can impair proper sperm development leading to oligospermia (low sperm count). These changes can directly affect fertility since it reduces the number of viable sperm reaching the ova.
Alcohol should also be avoided during conception; this is especially true for women. No amount of alcohol is safe during pregnancy. Clinical research data published in "British Medical Journal" suggests that women, who drank socially, 1-5 drinks per week, were at a greater risk of decreased fecundability when compared to women who remained abstinent. Fecundability is the probability of becoming fertile during a menstrual cycle. These findings underscore the importance of remaining abstinent while attempting to conceive. Research data also shows that foetal organ development is also affected by alcohol. This process occurs relatively early in pregnancy, even before a woman is aware she is pregnant. If she continues drinking alcohol, she increases the risk of delivering a baby with Foetal Alcohol syndrome. This is a permanent and irreversible condition where the baby fails to develop normally.
When attempting to conceive, nutrition and lifestyle choices should be evaluated. These decisions will not only affect the delivery of a healthy baby, but will impact the chance of having one as well. It is important to maintain a balanced healthy diet and to remain dug and alcohol free during this all-important journey.
You might also like...