Can Smoking Affect Fertility?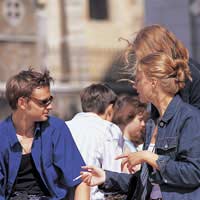 The health hazard of smoking extends far beyond lung disease. It also affects the heart, blood vessels and even impacts fertility. These effects, although different, are present in both men and women. In males smoking can damage the sperm, rendering them ineffective for fertilisation.
In women smoking can damage the ovaries, lead to miscarriages and even increase the risk of cervical cancer. Cervical cancer can affect fertility indirectly. According to a report published in "British Medical Journal", women who smoke reduce their probability of conception by 40% month after month. This report also highlights the effect smoking has on male impotence. Approximately 120,000 men aged 30 to 50 are impotent due to smoking. These results dramatically illustrate the effect of smoking on fertility, regardless of sex.
Smoking and Men
Men who smoke have been shown to have abnormalities in sperm production. Both sperm quality and quantity are affected by cigarette smoking. These abnormalities translate into higher rates of infertility.
Fecundability refers to the reproductive potential of giving birth during a particular menstrual cycle. It is dependent on the reproductive potential of both partners. Cigarette smoking decreases fecundability, which can be assessed through a semen analysis; normal sperm morphology should be greater than 50% and sperm count should be above 20 million/ml. These values are drastically reduced in men who smoke.
Smoking can also lead to impotence by causing damage to blood vessels. The mechanism of developing an erection is dependent on healthy veins. In diseased veins, as in the case with chronic cigarette use, blood flow is decreased, and thus causes weak and ineffective erections.
Smoking and Women
In women fertility is compromised by cigarette smoke as well. This occurs as a result of toxic substances which may cause harm to the ovaries. Smoking cigarettes also causes hormonal changes that can lead to menstrual irregularities and even anovulation (menstrual cycles where ovulation fails to occur). Even though the exact mechanism of how or why this occurs is still unknown, the harmful effects of cigarette smoke cannot be overlooked.
Women who smoke also have an increased risk of cervical cancer. Cervical cancer is cancer of the opening of the uterus (cervix) and in advanced stages; the only treatment option is surgery. Surgery often involves removal of the uterus and sometimes even the ovaries. This dramatic procedure although potentially life saving can leave the women permanently infertile. The effects of smoking on fertility can occur in all women regardless of age, but these risks are compounded in women of advance maternal age. For women desiring to become pregnant, quitting smoking should be the highest priority.
Smoking can impact fertility in many ways. For couples who desire to have a baby, it is best to refrain from smoking completely to optimise fecundability. Presently there is no safe limit of the number of cigarettes one can smoke. Even smoking periodically, such as during social occasions, can affect fertility potential and outcomes. For couples who are contemplating childbirth, it is imperative that they quit smoking prior to conception. It will not only, offer priceless benefit to the developing baby, but will increase the chances of having one as well.
You might also like...