Erectile Dysfunction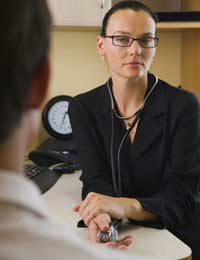 Erectile Dysfunction is a condition that affects one in ten men in the United Kingdom at any given time. The condition can be either short term or long term given the circumstances that lead to the problem occurring in the first place.
Causes of Erectile Dysfunction
For many of the men who suffer from this condition – a condition a great number of men feel unable to talk about – the problem arises from feelings of stress or anxiety lack of confidence, nervousness with a new partner or a physical problem with the penis or scrotum.
A great number of men who have suffered from the problem of Erectile Dysfunction do so because of psychological difficulties. Some men find it difficult to achieve and maintain an erection if they are with a new partner and the fear of this in itself can make the condition a lot more difficult to overcome.
There are also physical conditions that can have an impact on the male's ability to achieve an erection.These include diabetes and vascular diseases that prevent blood from reaching the penis and allowing it to become erect.
There are also veno-occulsive disorders that prevent blood remaining in the penis, which results in the sufferer being unable to maintain an erection for any length of time.
The nervous system also plays its part in the condition and can affect the sending of nerve signals to the penis; this can come about as a result of spinal injury or the result of surgery that has removed the feeling in certain nerve endings.
It is important to consider if there is a problem with achieving and maintaining an erection that the problem is nothing more than a short term issue that can be relieved by talking through stress or related difficulties with a partner; not doing so can lead to the condition escalating to a level where it is much more difficult to resolve.
Likewise if the problem is such that you and your partner can see no clear way forward then it is imperative to consult your doctor who will seek to find out where the condition stemmed from. This may include asking what many might consider to be very personal questions but these are justified and necessary and there is no shame or embarrassment in discussing such issues with your GP.
Although for the most part the issue of Erectile Dysfunction is one that resolves itself there are – as we have already indicated – times when it will not simply go away and will need treatment. Your doctor may prescribe a course of anti-depressants, some form of muscle relaxant or even – in extreme and very detailed cases – Viagra as a means to help alleviating it.
You may find that he or she wishes for you to undergo a sperm count – especially if you are hoping to have a child with your partner. This ensures that everything is as it should be and that the period of Erectile Dysfunction has not led to any other problems occurring such as infertility or a low sperm count. Again, as with all issues relating to the testis and the prostrate area of the male anatomy, any condition that flares up should be tackled with your GP's help as soon as possible and should not be allowed to linger and manifest itself as something more serious.
You might also like...