Can Alcohol Affect Fertility?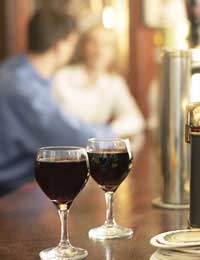 In today's modern society, alcohol has become the cornerstone for social engagements, business dinners and after work relaxation. It is important to realise however, that alcohol can directly impact the fertility of both males and females. In males it can decrease sperm quality, reduce testicular size, decrease libido and cause impotence, all of which can impair fertility. In females it has a more systemic response, affecting the reproductive hormones, leading to abnormalities in the menstrual cycle. Other effects include increased risk of miscarriages and once pregnant, fetal alcohol syndrome.
Effect of Alcohol on Conception for Men
Fecundability refers to the probability of conception during a particular menstrual cycle. It is dependent on the reproductive potential of both partners. Alcohol decreases fecundability by its effect on sperm quality and quantity. These factors can be determined through a semen analysis, normal sperm morphology should be greater then 50% and sperm count should be above 20 million/ml. Men who continue to consume alcohol on a regular basis, can decrease their sperm count and even affect sperm quality. Both of which are important factors in achieving fertility.
Testicular size is also affected by alcohol intake; and can also affect sperm production. Alcohol is a depressant of the central nervous system (CNS), and can disrupt the autonomic system of the CNS. The autonomic system controls the mechanism of erection formation and ejaculation. By disrupting this mechanism, it impairs the man's ability to have intercourse effectively which in turn has a negative effect on fecundability. These effects are temporary and short lived. Abnormal sperm production is also temporary and also can resume after abstaining from alcohol.
Effect of Alcohol on Conception for Women
In women, alcohol affects fecundability, by disrupting the delicate balance of the menstrual cycle. Clinical research data published in the "British Medical Journal" suggests that women, who drank socially, 1-5 drinks per week, were at a greater risk of decreased fecundability when compared to women who remained abstinent. These findings underscore the importance of remaining abstinent while attempting to conceive.
Alcohol disrupts the hormonal imbalance of the female reproductive system, leading to menstrual irregularities, and even anovulatory cycles, (menstrual cycles where ovulation fails to occur). These changes can drastically decrease a woman's chance of becoming pregnant and thus affect fertility.
Effect of Alcohol on an Unborn Child
Fetal alcohol syndrome is another important factor worth considering when deciding to drink while trying to get pregnant. This is an irreversible condition which retards the growth of vital organs due to the effects of alcohol. The risk of fetal alcohol syndrome is greatest during the first trimester of pregnancy. During this time, vital organs are forming, often before a woman even realises she is pregnant. For example the heart of the developing fetus begins to beat around the 3rd week of pregnancy. If a woman continues to drink alcohol during this crucial time, there may be permanent irreversible damage to the developing baby.
Alcohol effects fertility in both partners, and can do so in so many ways. For couples who desire to have a baby, it is best to stay away from drinking completely, to optimise fecundability. Presently there is no safe limit of alcohol intake; even socially acceptable amounts of alcohol can affect fertility potential and outcomes. Trying to conceive is a special time in a couple's life, it should be filled with love, devotion and safe health practices.
You might also like...