Birth Control Methods and Fertility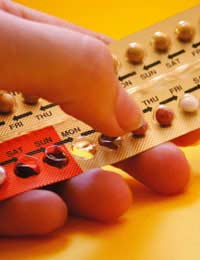 Millions of women use various methods of birth control while maintaining an active, healthy sex life. The phase of unwanted pregnancy is usually temporary until the time a couple is ready to become parents. When choosing a specific birth control method, the effect it has on future fertility is a major concern for women.
Numerous methods of contraception exist, from barrier methods to hormonal. Barrier methods include condoms, diaphragms, Intrauterine devices and surgery, where as hormonal methods, include, birth control pills, hormonal patches and for those desiring prolonged infertility, hormonal implants. Despite all the variety, it is important to realise some forms of contraception can have an impact on fertility, directly or indirectly. Some forms of birth control may even lead to infertility that may be permanent.
Barrier Methods
Most barrier methods have minimal effect on future fertility, in most cases, cessation of the method leads to an immediate return of fertility potential. Barrier methods such as condoms and diaphragms offer this advantage.
Not all barrier methods however afford this luxury; women who opt for intra uterine device implantation, (IUD) place themselves at an increased risk of developing pelvic inflammatory disease (PID). This disease can lead to infection, inflammation and scarring of the fallopian tubes. PID is also a potential risk for causing infertility. Scarring of the fallopian tubes leads to closure of the tubes lumen which can block the sperm from uniting with the ova (egg). Although IUD doesn't directly lead to infertility, it can potentially cause it due to the increased association with PID.
Other barrier methods which can lead to infertility include surgical interventions such as vasectomy and tubal ligation. Vasectomy is a surgical procedure where the male reproductive outflow tract (vas deferens) is severed and the lose ends tied. Tubal ligation is a similar procedure on the woman's fallopian tubes. Although options for reversal are available, they may not be successful. This form of birth control offers the greatest risk of permanent infertility.
Hormonal Methods
Hormonal options of birth control may also lead to a period of infertility, after cessation. This is however temporary until the menstrual cycle returns to normal. The time interval from cessation to fertility return depends on the hormonal method used, for example with hormonal implantation, like Norplant, the menstrual cycle may take up to 6 months to return to normal. For women taking birth control pills, the cycle usually return to normal within two to three months. The variance can be attributed to the hormonal concentrations of the specific pill used; some pills with higher oestrogen concentration can lead to a more prolonged interval. For women on the birth control patch the time interval is usually much shorter, but for obese women the cycle may take longer to return to normal because oestrogen is easily absorbed by adipose tissue (fat cells). These cells then become a reservoir for oestrogen release even after the patch has been removed.
Numerous methods for birth control exist; deciding on the right one is a personal choice that takes into account cost, comfort, convenience, level of protection and return to fertility. In exploring your options it is best to discuss your personal needs with your doctor.
You might also like...