Why Does Women's Fertility Decline With Age?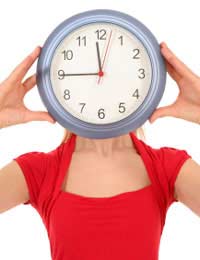 Most women spend their late teens and early twenties trying very hard not to get pregnant as they work towards a career, or complete their education. Having an unplanned baby at an early age can change the whole course of a woman's life. As time goes on, priorities and needs change and later in life, some women find that they cannot get pregnant, despite trying as hard as possible.
Although women should continue to be able to choose when they decide to start a family, the concept of the biological clock ticking away does have a scientific basis. Fertility in women is at its peak in the early twenties and starts to decline as she approaches 30. Until about the age of 35, the decline is very gradual and, unless there is an underlying problem that contributes to infertility, getting pregnant up to that age is usually no problem.
Fertility and Functioning Follicles
After 35, the ability to conceive falls of much more sharply. One of the main reasons is that the ovaries start off with many functioning follicles that are able to produce eggs. A woman of 25 has a large number of follicles that are in good condition, and she ovulates regularly each month. As time goes on, these follicles become inactive and the overall number capable of producing an egg goes down. By the time of the early menopause – in the mid to late 40s – a woman may be producing an egg only once every two or three months.
This process is a gradual one, but as functioning follicles start to reduce in the late 30s, ovulation may not always happen and it takes several months to become pregnant.
The Reproductive Tract Ages
As women get older, various signs of ageing start to become apparent. Wrinkles become noticeable, grey hairs appear and the skin can look far less fresh and dewy. Changes also occur inside the body and in the reproductive system, the endometrium, the normally thick lining inside the womb, can become much thinner. In women over 35, even if they produce a healthy egg that is fertilised, there is a much lower chance of it implanting into the lining of the womb to establish a pregnancy.
Changes to the vagina also mean that the lubricating fluid produced is thinner and actually kills off sperm, preventing them from getting into the womb to fertilise eggs.
Impact of Ageing on Fertility
All of these factors, plus any health conditions, or being obese or underweight, can work together to form circumstances that are less than ideal for pregnancy. Data collected from large numbers of women show that fertility reduces by half in the decade between a woman's 25th birthday and her 35th. After that, fertility reduces even further and the largest number of women who undergo in vitro fertilisation and other fertility treatments in the UK are past their 40th birthday.
When Delay is Necessary
Some people might argue that women should be aware of this decline in fertility and choose to have their children earlier – but it is not always that easy. In the current financial climate, even with housing prices at a low ebb, getting on the property ladder can be quite a struggle and many couples start their lives together working at their jobs to try to get enough money to afford a home. Time goes by quickly, and when they are in a stable financial position, they may well be in their mid 30s. As the recession looks like continuing, many financial experts believe that this situation is likely to be normal for some time to come.
Boosting Fertility
Once a couple in their late 30s start trying to have a baby, it can take two years or longer to become pregnant but there are things that both halves of the couple can do to boost their chances of conceiving. Having a very good diet – lots of fresh fruit, vegetables, protein and water – is a good idea for general health but can also ensure the reproductive systems of both partners are in the best condition possible. Being careful with alcohol, cutting out smoking, getting plenty of sleep can all improve a couple's sex life and their chances of pregnancy. Coping with stress is also important – talking to couples in the same position, joining a support group and getting advice on the infertility treatments available can all help.
You might also like...