Do Fertility Drugs Affect Pregnancy Tests?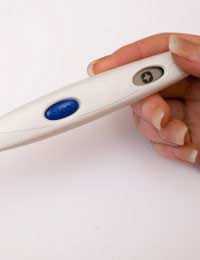 Women who are having difficulty conceiving, often resort to fertility medication to increase their chances of pregnancy. Such women undergo numerous pregnancy tests in hopes of seeing the good news. It is important however, not let ones hopes get too high.
Although relatively few medications interfere with pregnancy test readings, fertility drugs are one of them. Fertility drugs and pregnancy tests often go hand and hand for women trying to get pregnant. It is important to realise however that this combination can lead to false positives and false hope. A false positive reading is one where the test is positive but the actual outcome is negative. The false positive is due to the presence of beta Human Gonadotropin (B-HCG) hormone derivatives found in some fertility medications.
Understanding the Pregnancy Test
There are two types of pregnancy tests, quantitative and qualitative. The shop bought version is usually qualitative; meaning it simple detects the presence of B-HCG but offers no information regarding quantitative results. These qualitative tests detect B-HCG in the urine and even low levels of B-HCG found in some fertility medications.
A quantitative test, which measures the amount of B-HCG present in the blood, will provide a clearer picture with regards to pregnancy. After a qualitative urine test for B-HCG comes back positive, a qualitative blood test is usually done by the doctor. A quantitative B-HCG result less then 20mg/ul is often the result of a false positive. If a pregnancy does occur, the B-HCG will increase, often doubling every 48 hrs during the initial stages. In most cases a doctor may conduct the quantitative test more than once to obtain serial values. These tests are of value in not only confirming pregnancy, but also to rule out medical conditions which can complicate pregnancy and even mimic pregnancy.
Fertility Drugs
Fertility drugs that contain B-HCG have the greatest risk in producing false positives. Drugs such as, pregnyl, humegon and pregonal, are often prescribed to stimulate the ovarian follicles and induce ovulation. Such drugs contain derivatives of B-HCG and other hormones, which help stimulate ovulation. Aside from ovulation induction, these drugs may be prescribed for other medical conditions as well, such as undescended testes and hypogonadism. It stands to reason that such drugs when prescribed to males can trigger a false positive pregnancy test in them too!
Fertility drugs, such as chlomaphene citrate, and other Follicle stimulating (FSH) analogs that do not contain derivatives of B-HCG do not interfere with pregnancy test readings.
The road to pregnancy can be full of surprises. Taking a pregnancy test, and getting a positive result, only to find out it was false is truly a disappointing surprise. Although at-home pregnancy kits are often extremely reliable, they are not definitive. These tests should be further evaluated to confirm pregnancy. Especially for women who are on fertility medication; a positive B-HCG result should be further evaluated as soon as possible. A quantitative result will offer more assurance than a qualitative one.
You might also like...