I Was Scared to Admit My Abortion: A Case Study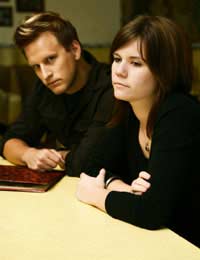 Alex (not her real name) only agreed to tell her story if she remained anonymous. "After going through all I have to make sure my husband doesn't find out about my abortion, I don't want to take any risks now," she says, looking anxious.
At the age of 19, Alex had an abortion after getting pregnant by her boyfriend at a friend's 18th birthday party. "He wasn't really a serious boyfriend, I had no intention of spending my life with him but we had both had a bit to drink and we didn't bother with contraception!" she says. "I was just about to start my second term at university too, so it was really bad timing."
An Early Abortion
When Alex got back to Manchester, she arranged an early abortion through her GP there, telling no-one, not even her mum. "I told everyone I had come down with flu and spent 6 days in bed, feeling rotten. I just wanted to forget the whole thing and pretend it had never happened.
Which is nearly what she managed to do. The rest of her first year at university passed with no problems and she went on to get a high 2:1 at the end of the third year. "I even did a master's year and started work on a newspaper in London as a journalist. It was great and I was so glad I didn't have a small child at that stage in my life," recalls Alex.
A Busy Career
Her career went from strength to strength and Alex landed a prime job as a researcher with the BBC. "I worked there for 7 years and had the time of my life. I never thought I would want to leave but then a job came up back in Manchester and I decided the time was right to buy my own place – out of the city – and concentrate on putting down some roots," she says.
The following year, settled in a two-bedroomed house in large village just on the outskirts of Manchester, Alex met Jack (not his real name either). It was nearly love at first sight. "I had never felt like this and we ended up getting married after being together only a year. I was so happy," she says.
Infertility Problems
By now in her early 30s, Alex and Jack decided that they would try to have a family straight away. But, to her surprise, Alex showed no signs of getting pregnant. "After my earlier experience of one night without contraception, I expected to fall pregnant immediately but the months passed. After 18 months I started to worry – mainly because I faced the prospects of tests and examinations. I had never told Jack about the abortion and he is really against causal sex and I just don't want him to know. I don't want anyone to know, even now," she stresses.
Resisting as long as she could, Alex realised that they would need to approach their GP to see what the problem was. Feigning illness on the day of the appointment, Alex persuaded Jack to go alone to have his tests. "I hoped that there would be a problem with him that could be sorted out very easily and I wouldn't have to be examined. The trouble was, the assessment always includes both of you anyway as there can be problems on both sides," says Alex.
Secrecy or Privacy?
Alex decided that the only thing to do was arrange an appointment with her own GP and tell her the truth. "I hated telling her but I know that patient confidentiality works even with spouses – she couldn't tell Jack or anyone else," says Alex.
The GP reassured Alex that all would be well. No health professional would say they had noticed anything, or openly attribute any problem to an abortion. She put a note with Alex's record and arranged for her to have an individual appointment, without Jack. "The GP also told me something that I hadn't thought of in all my anxiety – that if I became pregnant, the medical team would be better off knowing, in case there was an emergency. I had thought once I was pregnant, it would be all plain sailing," says Alex.
So far, the couple have discovered that Jack has a low sperm count and one of Alex fallopian tubes are blocked – nothing to do with the abortion. "We are thinking about treatment and the doctor does know. I am now not so worried and I just try not to think about it. I still never want Jack to know," says Alex.
You might also like...