I Had a Menopause Baby: Case Study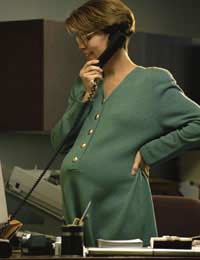 Maisie's youngest daughter Sally recently married for the second time at the age of 39. Nothing unusual about that, except that Maisie is 84 and Sally's elder brother and sister are both 20 years older than her. "My husband Bill and I were married in 1946, just after he returned from World War II. I was just 20 and we had two children by the time I was 25 and then we had two more sons, one in 1952 and one in 1955. We had wanted a big family and we were all very happy. I worked in a local factory and Bill was a postman," explains Maisie.
Life progressed fairly uneventfully through the swinging sixties, which were fairly calm in Leicester, and in 1969, Maisie's first daughter, Evelyn got married and left home and immediately got pregnant with Maisie and Bill's first grandchild. "Everyone was really excited – my other three children still lived at home but were the youngest was 15 by then and all of them were working. I was helping my daughter with baby clothes and planning for the arrival and I started to feel a bit odd. I thought it was the 'change of life' that had come a bit early, so just ignore the tiredness, the occasional nausea and my weight gain and got on with things," says Maisie.
A Second Pregnancy in the Family
Maisie's periods had stopped, which all fitted in with her entering the menopause and a few weeks later she started to feel better, but was still worried about gaining weight and her clothes weren't fitting, so she went to the GP. "He hadn't seen me for 10 years, as I was never ill but he seemed concerned –ovarian cancer was mentioned and I was worried sick. I had to have some blood tests and go home but I felt really worried that I wouldn't get to see my grandchild. I never mentioned anything though to the family. I didn't want them worried," she says.
Maisie had to go back to the surgery 2 weeks later and the doctor sat her down and told her he had some news. "Whatever I expected, it was certainly not the news he told me. I was pregnant again at the age of 44 – four months pregnant! And me with four children already. How could I not have seen the signs!" she laughs.
Breaking the News at Home
After having a bit of a cry, mainly with relief at not having a serious illness, the impact of the news began to hit Maisie and she dreaded going home and telling the family. "We were thinking about a grandchild and I was going to have another child just two months after it was due. What were they going to say?"
It was a bit of a shock for everyone, and Maisie's eldest daughter took it quite badly. "She was horrified that we were both going to be pregnant together and, to be honest, I don't think she has ever forgiven me! But we came together and proved to be a strong family and when Sally was born, everyone loved her," says Maisie.
A Double Celebration
Maisie's granddaughter Katherine was born exactly 14 weeks before Sally, who arrived on 4th July 1970. "The two girls grew up like sisters as my elder daughter lived just down the road. She went on to have two more children but I thought me and Bill had better be more careful after that," smiles Maisie. Everyone often thought the girls were sisters, and they are still best friends.
How Common Are Menopause Babies?
Many other women as well as Maisie have been caught out by the symptoms of pregnancy coming at a time when they expected to become menopausal. Fertility does decline in the late 30s and 40s, so pregnancies at that age don't always happen, even for couples who don't use any contraception, but there are more today because of choice. Women put off having children until their early forties because of career and work.
"It was quite hard having a fifth child in my mid-forties. I certainly felt more tired running around after a toddler and when Bill died in 1985, Sally was only 15. It's a shame she hasn't had her dad for as long as my older children but we have always been close and she looks after me so well now. We always go shopping on a Saturday to the market and although I am 84, I don't give in to age. She has kept me young I think."
You might also like...