I Fathered a Child After Surviving Testicular Cancer: A Case Study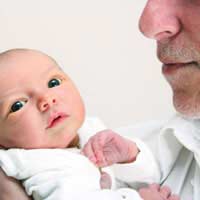 As Rob plays with his young son Ryan, now 4, he looks like the perfect father. "I really enjoy being a dad but for a while it seemed like an impossible dream" he says.
Ten years ago, when he was 18, Rob had been training hard for his local cycling team and he put a heavy, aching feeling in his right testicle down to the pressure of the saddle. "It's almost an occupational hazard," he laughs.
After being away from cycling on a family holiday however, Rob began to be a bit concerned. "After laying about on a beach in Turkey and doing not much else but eating and drinking, I thought the ache would ease off and I would have a chance to recover before starting training again when I got back. I realised that I had a bit of a lump on my right testicle and that was extremely frightening," he remembers.
Testicular Cancer Diagnosis
Rob's mum noticed that he was quiet and withdrawn and, when he told her of his problem she booked an appointment with the GP the same day. "From then on, things moved very fast. I wanted to deny it all, but the fact was, this was serious and I probably had cancer. I didn't realise that testicular cancer is common in younger men – over half the cases that occur are in men younger than 35," says Rob.
Five weeks later, Rob's right testicle was removed and he had to have follow up chemotherapy and some radiotherapy. "This treatment results in a complete cure in 95% of cases, so there was no choice – I had to go ahead with it. At that point, I wasn't thinking about the future, so I didn't get a sperm sample stored or anything," says Rob.
Enjoying University
Six months later, just after he was given the all clear, Rob started university and did a 4- year course and became a sports and physical education teacher at a secondary school.
"I had a great time at university – I felt as if I had had a brush with death and everything seemed much more special. I went out with quite a few girls at uni, but no-one serious. I just wanted to have a great social life, enjoy my studies and live life to the full," he says.
Meeting Joanne
Rob moved away from home to a town around 50 miles away from his parents and bought a two-up, two-down terrace. "The transition from uni to work was quite hard and I had all the household stuff to do for the first time too, so I expected to feel tired," recalls Rob. However, when his remaining testicle began to ache in the old familiar way, Rob nearly folded emotionally. "I had met Joanne, and fallen head over heels in love. We had been going out for 18 months and I really wanted to ask her to marry me – then I had to face the prospect of cancer all over again," he says.
Joanne knew of Rob's testicular cancer but, like him, had assumed it was all in the past. She was very supportive and went with him to see his local GP, who reviewed his previous treatment and referred him to a specialist straight away.
"As before, everything moved very fast – testicular cancer has a much higher cure rate when treatment is done as early as possible. Even the doctors agreed that it was bad luck to get a tumour in both testicles, but that's what happened," explains Rob.
Second Round of Treatment
The doctors recommended that Rob's remaining testicle was removed. "Obviously, now things were very different. I had told Joanne that I was thinking of marriage and she, amazingly, still wanted to consider it. We both thought it best to get the treatment out of the way first, but we had to think about having children. We couldn't take the possibility away completely, so this time, I froze several sperm samples," says Rob.
The other testicle was removed and the same follow up treatment was initiated. "I also had a full body scan and loads of genetic tests to see if I had any other cancers or if I had a gene that made me susceptible to cancer. Everything was negative though," he says.
Wedding Bells
The year after the treatment, Rob and Joanne married and immediately began plans to start a family. "We had to have artificial insemination with my semen samples but, after just two attempts, Joanne was pregnant. The second time round it took a bit longer but, we are over the moon that Joanne is expecting our second child, a girl, in four weeks time. I'll be a dad again. My life has had so many second chances, so I will be making the most of every minute," grins Rob.
You might also like...