I Had a Vasectomy Reversal: A Case Study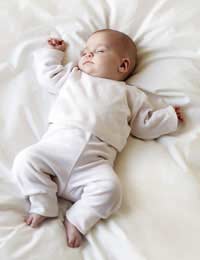 "When I look in on Oliver and Sophie as they are asleep at night I feel really lucky to be their father. Today is the 12th anniversary of the day I went into a BUPA hospital in Leeds and had a vasectomy, thinking at the time that this was absolutely the right decision to take," says David. At that time, with two teenage daughters, he and his wife Karen thought a vasectomy was the ideal contraception as they felt their family was complete.
"I was 36 and Karen was 40 and we were both looking forward to a busy time as our daughters prepared for university. Beyond that, I suppose I just expected we would aim for early retirement as we both had good pensions and that we would make the most of life in middle age," says David.
"The trouble with life is that you just never know what is round the corner. Just five months later, Karen started to feel tired and unwell all the time. She was diagnosed with advanced ovarian cancer, which certainly lives up to its reputation as a silent killer. She went from being OK, to just a bit tired, to dying in hospital in just another five months. Within a year of my vasectomy I was a widow with two bereft daughters who had to struggle through their A levels."
Rebuilding a Life
After the total shock of losing his wife, David slowly began to build a new life. He eventually joined a photography class at the local college and began to learn German. Friends helped by arranging visits to the cinema and evenings out as the girls went away to university and lived away from home. Two years after Karen's death, he noticed Pia, one of the other students on his photograph course was keen to sit next to him during the talks and they went out for coffee a few times. "I never expected it, but we fell head-over-heels in love. Pia was 14 years younger than I was and originally from Vietnam. She had lived in England since she was three."
David introduced Pia to his daughters, who were then in their twenties, who thought she was just right for their dad. Within a year of meeting, he and Pia married quietly in the grounds of the local abbey on a hot day in July.
Can a Vasectomy be Reversed?
"We had talked about children and I had no secrets from Pia and she accepted it completely, even though she hadn't any children of her own. But I started to worry and went to see my GP to ask if we might be eligible for IVF treatment. As I was still producing sperm, this could be an option that would enable us to have children of our own. I was surprised when he said it might be far simpler to have a vasectomy reversal, as this was a relatively minor operation."
The main reason for men requesting a vasectomy reversal is a new relationship following a divorce or the death of a partner but the success rate depends on the length of time that has elapsed since the first operation. Since it was less than 8 years since David's original vasectomy, the doctors thought that the chances of his fertility being restored were around 75%. The reversal took a lot longer than the original vasectomy – about three hours – and David had to have a general rather than a local anaesthetic.
An Anxious Time
Apart from some minor discomfort a couple of days after surgery, David was fine and was back at work the next week. Sperm tests done 6 weeks later confirmed that the surgery had been a success in terms of a full restoration of sperm count. But, as the doctors pointed out, a successful vasectomy reversal was no guarantee of a successful conception. They warned that it could take two or three years for Pia to become pregnant.
A New Family
"We had decided to just forget about everything after that and let nature take its course. We were over the moon when Pia found out she was pregnant 18 months later. Oliver, now 5 was followed by Sophie, now 3. I am now rediscovering being a father all over again – suffering broken nights in my late 40s was a bit of a trial, but I wouldn't have it any other way."
"My older daughters are both married now and Claire has just had a baby son – my first grandchild. It will seem a bit strange for my younger children to not be much older than my grandchildren, but its great to be able to be part of a happy and extended family."
You might also like...