Cystic Fibrosis and Pregnancy: I Fought all the Odds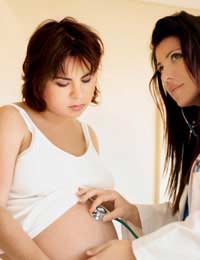 Kelly is having her daily CPT session while baby Thomas has a nap in the crib at the other side of the lounge. CPT – chest physical therapy – is a life saving physiotherapy that helps Kelly's lungs get rid of excess mucus and trapped debris so she can cough it out.
"Kelly has cystic fibrosis," explains Julie, her nurse and friend for the past 7 years. "Normal lungs do this on their own but people with cystic fibrosis have thicker mucus and it is difficult to get rid of. If it builds up, lung infections can develop and these can be serious – even fatal," explains Julie.
When the session is over, Kelly goes over to check on Thomas, who is still asleep and we all sit down in the kitchen for tea and biscuits.
Pregnancy and Cystic Fibrosis
People often think that cystic fibrosis kills people when they are very young and that no woman with cystic fibrosis can have children.
"That used to be the case but the first woman with cystic fibrosis to have a healthy baby was in 1960 – almost 50 years ago. Sadly, she died when the baby was six weeks old but since then treatments and life expectancy have improved," says Kelly.
In countries like the UK and the USA, women with cystic fibrosis live, on average, 36 years, and about 4% of them each year have a baby. "All of life's decisions are difficult but having cystic fibrosis makes them even more complicated," says Kelly.
Planning Ahead
Kelly and husband David had been married a year when they went to see Kelly's doctor to start planning for a baby.
"I had to make sure that I was as healthy as possible to give the pregnancy the best chance possible. I had to be up to my target weight and had to make sure my lung function was as good as possible. I don't think I ever ate so much!" laughs Kelly.
David also had to have genetic testing to see if he was a carrier of the gene that causes cystic fibrosis. "Because I have two copies of the gene, if he had had one, there would have been a one in two chance that the baby would also have had cystic fibrosis. We decided that if that happened, we would terminate the pregnancy. Thankfully, David was not a carrier, so that was something we didn't have to face," says Kelly.
Pregnancy Test is Positive
About ten months later, Kelly missed a period and did a pregnancy test straight away. It was positive. For the first three months, all was fine but then, at four months, Kelly started to show signs of getting a lung infection.
"That was very dangerous for the baby because when my lungs don't work properly I can't get enough oxygen to the placenta to keep the baby healthy," says Kelly. She was rushed to hospital, as her doctor was taking no chances, and was started straight away on antibiotics.
That was Kelly's first stay in hospital – which lasted two weeks. "After that I had a few minor problems but then at 7 months, I started to feel really tired and ill and felt it was really difficult to breathe. My CPT was getting hard too," says Kelly.
Kelly spent the rest of her pregnancy in hospital under close observation and, just after the 8 month point, the doctors decided that her body was under a lot of strain and went ahead with a caesarian. Baby Thomas was delivered weighing 6lbs 4 oz and was healthy and fine. "I couldn't have had a general anaesthetic unless it had been an absolute emergency and all worked out OK. I took about 2 months to recover though but I have got stronger since," says Kelly.
Breastfeeding Thomas
Kelly has shown great courage and resilience during her pregnancy and afterwards and has even agreed to IV feeding to supplement her diet at times to keep up her weight and allow her to make the milk that Thomas needs. "He is five months soon, and then I will move on to bottles, but I wanted to give him the best start possible and know what it is like to be so close," Kelly adds.
Facing Facts
The future, of course, is still an unknown but Kelly plans to keep her health as good as possible to be around for Thomas as long as possible. "I am on the list for a heart and lung transplant and if I get the opportunity, I will go for it. It may give me the chance to see Thomas have a baby of his own" grins Kelly.
You might also like...