My Ectopic Pregnancy Affected My Fertility: Case Study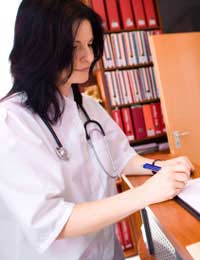 Jemma leads a full life and is bouncy and full of vitality. "I have a great job, have been engaged for 10 years, which suits us both, and have a gorgeous flat in Guildford. I have a wide circle of very good friends and I am a keen dancer in my spare time, so life is great," she says. She doesn't dwell on it too much, but family life is something that she has learned to live without. "We have never really used any contraception, and if a baby had come along, that's what our life would have been, but that hasn't happened," she says.
Pregnancy at University
When Jemma was 20 and in her second year of University at Glasgow, she fell deeply in love for the first time. "Jonathan was definitely my first love – I had had a few boyfriends at school but nothing too serious. He felt the same and we spent all out time together for about 3 months. I was a bit inexperienced and so was he and although we used condoms, we obviously weren't that efficient and half way through my second year I started to feel sick every morning," remembers Jemma.
Over the next three weeks, Jemma tried to ignore the morning sickness, putting it down to all sorts of things – something she had eaten, having a glass of wine the evening before, having a bug that was going around. "I finally went to the chemist and furtively bought a pregnancy testing kit, which of course was positive. I sat in my room at unit and cried and cried. I dreaded telling Jonathan and I dreaded telling my parents even more," she says.
Rushed to Hospital
Unfortunately, Jemma's parents and boyfriends didn't find out about her pregnancy in quite the way she had expected. "I was working up to telling them but still putting it off the week after I had done the test and I was in a lecture when I started to feel very odd. I felt sick, so I rushed out of the lecture room to the ladies but I collapsed outside in the corridor and an ambulance had to be called. I had an incredible pain in my side and I thought I had appendicitis – I remember thinking that I would have to have my appendix out and tell the doctor I was pregnant and was suddenly worried about the baby inside me for the first time," she recalls.
An Ectopic Pregnancy
When she had been examined the doctor told Jemma that she didn't have appendicitis – her pregnancy was an ectopic one and her fallopian tube had rupture and she was bleeding internally and needed emergency surgery. "That was the last I remember until I woke up on the ward to see three worried faces – my mum and dad and Jonathan. I could see the worry and the relief that I was coming round and would be OK but there was something else in their expressions and I knew I was in deep trouble," Jemma says.
The pregnancy had ended badly; the baby was lost and Jemma's right fallopian tube was badly damaged and had had to be cut away and tied off. "That meant I just had one working fallopian tube for the future, or so I thought," she adds.
Relationships are Strained
Thinking about the long-off future was, however, not a priority at the time. Jemma had to spend the next few weeks recovering physically and dealing with the fall out of her lack of communication about her pregnancy. "Jonathan and I were doomed after that and I was heartbroken. He felt I had excluded him completely and my parents were obviously also disappointed that I hadn't confided in them, specially my mum."
After having to repeat her second year, Jemma went on to finish her degree and put the ectopic pregnancy behind her, or so she thought. "When I met Robert when I was 29, we moved in together and talked of getting married and having children. It had been on my mind since that horrible experience at uni that things may not be OK. This time, I had learned my lesson and Robert knew all about it and before we made a commitment to each other I had my fertility checked."
An ultrasound scan confirmed that the damaged fallopian tube was non-functional but also that Jemma's other fallopian tube was deformed and blocked. "So, there was little chance of me getting pregnant again. At least we have based our relationship on honesty though and we decided to live life to the full, whether children arrived or not, and that's what we carry on doing," she says confidently, perhaps hiding more than a little sadness.
You might also like...