My Daughter is an IVF Baby: A Case Study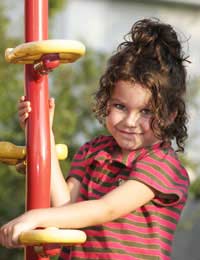 Meagan, a bright eyed and bubbly care assistant is the picture of health and happiness as she plays in the park with her four-year-old daughter Angharad near to their home in Cardiff, Wales. Married to Ewan for nearly 15 years, the couple had always wanted a large family.
"That was a dream that lasted just a few short years – for most of our marriage we have had to face the despair that we would never have even one child of our own," says Meagan softly.
Fertility Tests
After trying to conceive for almost three years, and having suffered four miscarriages, Meagan and Ewan consulted their doctor who referred them for fertility testing.
"By then, I had all sorts of problems, a blocked fallopian tube and a small cyst on the ovary near to the healthy fallopian tube. Ewan also had sperm that did not swim very well" explains Meagan.
Meagan's cyst was removed and then the couple was referred to an NHS fertility clinic in the west Midlands and underwent an infertility treatment called ICSI – which stands for Intra-Cytoplasmic Sperm Injection.
"Basically, the doctors extracted Ewan's sperm, which were poor swimmers, and injected one of them directly into one of my eggs. They did this with several eggs; I had to take clomid for a few weeks before to stimulate my ovaries to produce more eggs than usual, which left me in a lot of pain."
The ICSI treatment was successful in that three viable embryos were produced but because Meagan was in such a bad way, they decided to freeze the embryos for a month before implanting them.
Tragedy Strikes
"I was terrified that I had messed the whole thing up but, six weeks after the implantation, my pregnancy was confirmed and we were delighted," add Meagan. Although Meagan feared miscarrying again, the pregnancy progressed well and Amelia was born on July 2, 1999. But Meagan was a mother for just four days, Amelia passed away suddenly in intensive care after developing breathing difficulties and a clot on her lungs.
"I still cannot talk about that time without falling apart. It was a bleak period in my life that I thought I would never get through. The doctors have reassured me that it had nothing to do with freezing the embryos but I still blame myself."
Encouragement to Try Again
After 18 months, Meagan's mother had a serious talk with her and raised the possibility of going through more infertility treatment.
"Initially I was very angry and hated the thought of going through so much pain again, but eventually Ewan and I decided that facing a life without children was even worse." This time, the fertility clinic recommended a cycle of IVF, and Meagan was given a different drug to stimulate her ovaries. "I felt a bit tired, but nothing like the first time and three embryos were implanted on Friday 13th in February 2004 – what a day to choose!"
Angharad Arrives
Six weeks later, Meagan was again confirmed as being pregnant – with just one baby. Every day of the pregnancy seemed to drag by. Both Ewan and Meagan suffered anxiety and anguish to the three month point, then until the results of the ultrasound exam confirmed everything looked OK, and then again as the birth approached. Angharad was born on November 8 2005, a healthy baby weighing in a 7lb 5 ounces.
"Everything was perfect but we still hardly dared to breathe and she was kept in hospital under observation for 10 days. For weeks I had sleepless nights, not because she was waking up, but because she was sleeping and I constantly had to check she was OK." Meagan can now smile at her own paranoia, but it was not without foundation.
"When Angharad – which means "greatly loved one" in Welsh – was three months old she rolled herself over on her playmat with such strength and determination, I knew that she was not as fragile as I had thought. After that day I began to relax and we are both now so happy to have tried a second time. She is a super little girl she makes us laugh so much," says Meagan.
"My mother and Ewan have been gently pushing me towards a second IVF attempt to complete our family and I finally decided the time was right a few months ago. I am now pregnant again with one of the frozen embryos that we saved from the first IVF cycle. I am still worried, but more hopeful this time."
You might also like...