Increasing Your Chances of Conceiving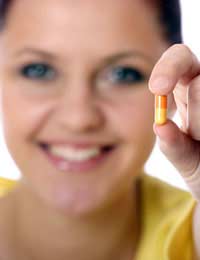 Although achieving conception involves a range of complex factors - some of which you have little control over - when you're first starting out there are some practical things you can do to try and increase your chances of success.
Take Supplements
Folic acid is the supplement you're advised to take when you're pregnant as it significantly reduces the risk of your baby being born with spina bifida. But it's also recommended to take as soon as you start trying for a baby. The recommended dose is 400mcg per day. Other supplements are useful too, including B and E vitamins and Zinc.
All the B vitamins are useful for women to have when you're trying to conceive, but studies have found that B12 in particular can help improve low sperm counts, so perhaps you could encourage your partner to take it. Zinc is well known as an important nutrient for both men and women to have. Insufficient zinc has been linked to causing chromosome changes, reducing fertility and increasing the risk of miscarriage. It's also involved in sperm and is needed to make the 'outer layer and tail of the sperm,' so it's another supplement for men to consider.
Taking the antioxidant vitamin E has been linked to an increase in fertility in both men and women. The theory is that it makes the sperm more fertile, but it's beneficial for both partners to take.
Ensure you have a Healthy Diet
In the same way that extra supplements may be required to boost your nutrients, it's also important to ensure you eat a healthy diet. This means making sure you eat plenty of fresh fruits and vegetables – for example, five portions per day – and get a good balance of protein and carbohydrate.
Have Sex Frequently
Don't forget to have sex frequently! The more you have sex, the more likely it is that you'll catch your most fertile days, which help your chances of conceiving. For men who have sex frequently, their sperm counts will be slightly lower, but it won't affect his ability to produce enough sperm to be viable.
Wear the Right Clothes
This may seem odd, but for men, wearing the right clothes could help improve chances of conceiving. It's true – loose underwear and jeans help the testicles stay cooler, keep them slightly away from the body and ensure they're in the best state of health. The optimum temperature for sperm is about 2-3C cooler than the rest of the body. So if your man's a fan of tight trousers, encourage him to wear looser styles, as well as opting for boxer shorts underneath.
Avoid Alcohol
The latest recommendation from the UK government suggests women should avoid drinking alcohol whilst pregnant and when trying to conceive. Research has shown alcohol consumption during pregnancy is linked to babies being born with fetal alcohol spectrum disorder, plus it can cause other problems. Although the effects of drinking alcohol whilst trying to conceive are still unclear, by avoiding it completely they'll be no chance of it having any unwanted effects.
You might also like...