Fertility Facts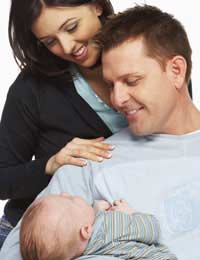 The process of achieving fertilisation can be complex and confusing. Both the male and female characteristics can influence this process. However, by understanding some basic facts couples can improve their chances of becoming pregnant.
For women, the potential of becoming fertile begins with their first period and ends with menopause. Menses is a monthly cycle, which culminates in the shedding of the inner uterine lining over a 3-5 day period. During the menstrual cycle, subtle changes occur within the body in response to various stages. These changes can be used to help achieve pregnancy.
In males fertility depends on sperm quantity and quality. They begin to produce sperm with the onset of puberty and continue to do so through life, without a defined end.
The Menstrual Cycle
The menstrual cycle is approximately a 28-day cycle, which is divided into four overlapping phases; follicular phase, ovulation, luteal phase and menstruation. Of these four phases, ovulation is the most important with regard to fertility.
Ovulation
It is during this short phase, an ova (egg) is recruited and released into the fallopian tubes. The "window of opportunity" after ovulation is only 12-24 hrs. Now this doesn't mean that one has to have intercourse only after ovulation to conceive. The sperm can remain viable within the female reproductive tract for 24-72 hrs. Intercourse, even three days before ovulation, can result in fertilisation. By having intercourse around the time of ovulation, the chance of becoming pregnant is greatly increased.
A woman's ovulatory period can be predicted by measuring the basal body temperature. The basal body temperature increases by 1 degree, around the time of ovulation. Alternatively the ovulation date can be estimated by subtracting 14 days from the start of the last menstrual period (LMP). For example if the LMP started on February 14 then ovulation for that cycle took place on February 1st.
The most accurate method, however, is the ovulation prediction kit. This kit is urine based and requires no painful needle sticks. The ovulation kit works by detecting the luteinizing hormone (LH) surge, which occurs just before ovulation. This is the earliest and most accurate method available for predicting ovulation. Ovulation is governed by elevations in luteinizing hormone, which trigger elevations in Oestrogen, thus causing ovulation. By monitoring elevations in luteinizing hormone, a person can anticipate ovulation even before it occurs.
The Role of the Male
The male partner also plays an important role in fertilisation. In fact, the male factor is the most common cause of infertility, accounting for over 25% of the cases. A semen analysis can assess the sperm for quality and quantity. It is a simple, non-invasive procedure, which analyses the semen for sperm concentration, sperm motility, sperm morphology and various other parameters listed below.
Normal parameters:
Volume – 2-5 ml
Ph- 7.2 –7.8
Sperm Concentration – 20M/ml
Sperm Motility- >50%
Sperm Morphology- >50%
WBC- <1 Million wbc/ul
(Adopted from the World Health Organisation)
Sperm health can be compromised by medical conditions, substance abuse, and environmental factors. Medical conditions such as Kartagener's syndrome, a relatively rare disease, which affects the heart, can lead to azopermia. Azopermia means the inability to produce sperm.
Marijuana use can also affect sperm health. Studies have shown that men who smoke marijuana consistently have decreased sperm counts when compared to control populations.
As far as environmental conditions are concerned, sperm are extremely heat sensitive. They require a basal temperature that is a few degrees cooler the normal body temperature. In extremely hot conditions, such as hot spas and wearing tight undergarments, the sperm can denature and affect ones ability to conceive.
Fertility is a process that is affected by both sexes. By maintaining a healthy lifestyle and being in tune with the body's subtle changes, one can greatly increase the probability of conceiving.
You might also like...