Fertility and Age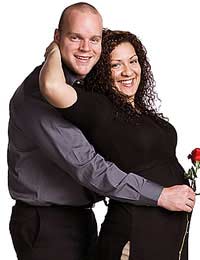 At birth, the female baby is born with approximately 1 to 2 million eggs. All the eggs of the female reproductive system are present at birth, and remain dormant until she begins her menstrual cycle during puberty.
Even before the female is physiologically able to conceive, her ova (eggs) have already aged by at least 12- 13 years. Not only have they aged, they have also dwindled down into the hundreds of thousands in number. The monthly cycle of ovulation offers an opportunity for fertilisation and the chance to bring new life. Theoretically, a woman has the potential of becoming fertile, up until menopause, but in reality, the potential to become pregnant begins to decline after the age of 35. The inverse relationship between age and fertility becomes even stronger as the years progress past 35.
Chronological Age vs. Ovarian Reserve
Several factors are involved in a woman's ability to become pregnant. Recent advances in fertility research have led to the development of tests, which can access the functional quality of ovarian follicles. These tests offer a more precise measure of a woman's reproductive capacity than age alone. They measure ovarian reserve, based on hormonal levels of FSH (follicle stimulating hormone) and Oestrogen during specific intervals of the menstrual cycle. This test is called "The day 3 FSH and Oestradiol test", because it measures the level of these hormones on the third day from the last menstrual period (LMP).
Oestradiol is the type of oestrogen which predominates in the reproductive female. Elevated levels of these hormones are a poor prognostic sign and it implies that the follicular function has deteriorated. Ideally the follicles should be stimulated to produce inhibin, a hormone that completes a negative feed back loop leading to a decrease in FSH and Oestrogen.
A specialised version of this test, called the Clomiphene Citrate Challenge test (CCCT), challenges the follicles after the infusion of clomiphene. Clomiphene is a compound, which stimulates the ovarian follicles and is administered over a 3-5 day period after which hormone levels are measured again on the 10th day. If even after this trigger the hormones FSH and oestrogen still remain elevated, then it reinforces the poor prognosis. Other tests and procedures are also involved to get a complete picture of ovarian reserve.
A woman's response to these tests and procedures is based on various factors and can vary from age to age. An older woman with a good clinical response is more likely to get pregnant than a younger woman with a poor clinical response.
Infertility
Infertility is medically defined as the inability to conceive after multiple sustained attempts of unprotected sex for at least 12 months. This doesn't mean that after a year the woman will never become pregnant, it just means that it could be a possibility. As the woman gets older, past 35, her reproductive potential continues to decline. If repeated attempts have not lead to a pregnancy within a year it is advisable to assess the woman's ovarian reserve. This will provide a clearer picture of her reproductive potential and the couple can then make important decisions with regard to exploring fertility options.
You might also like...