Boosting Your Fertility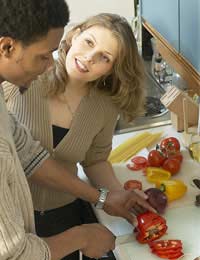 If you're trying for a baby it can help to have your body in optimum health and ready for a baby. Although fertility is a complex area, there are some ways in which you can take practical steps to boost your fertility and increase the chance of becoming pregnant. Here's how.
Eat Well
A healthy diet is essential, as it provides your body with all the essential nutrients it needs. Try and include plenty of fresh fruits and vegetables in your daily diet, as well as a good balance of protein and carbohydrates. If you're eating healthily, it's not usually necessary to take a vitamin supplement, but if you wish to, look out for varieties specially aimed at pregnant women. These won't have vitamin A in them, as it's been linked to developmental abnormalities in babies.
Pregnant women are advised to avoid certain foods and some experts suggest it may be worth avoiding the suspect products whilst you're trying to conceive too. Items to avoid include:
Raw or undercooked meats, as they can carry listeria.
Liver or products which contain liver, such as pates, as they're high in vitamin A.
Soft ripened cheeses and blue veined cheeses, as they carry a risk of listeria.
Products containing raw or undercooked eggs, as they up the risk of salmonella.
Unpasteurised milk from sheep, cows or goats.
Raw shellfish.
Take Folic Acid
The one key supplement that women trying to conceive are recommended to take, as well as when they're pregnant, is folic acid. The recommended daily dose is 400mcg or 0.4mg, and experts advise taking it as soon as you start to try for a baby. It significantly reduces the risk of having a child with spina bifida, so is very valuable.
Manage Your Weight and Get Exercise
Your fertility can be affected by weight, both being under and over-weight, so if you're serious about trying for baby, sorting out any weight issues would be worthwhile. Your partner's weight can play a part in their fertility too, so encourage them to join you in any weight deduction or increasing.
Exercise is another lifestyle factor that can play a crucial role. Keeping yourself fit and healthy by having regular exercise will give your body a better chance of conceiving. It's good to have a minimum of three 20 minute sessions of exercise each week.
Stop Smoking
If you or even your partner smoke, it can play a key role in reducing your chances of conceiving. As well as boosting your fertility, stopping smoking will have huge benefits for your health and the health of your baby, as well as reduce your risk of suffering from a miscarriage or ectopic pregnancy.
Avoid Taking Medication
This isn't always practical if you've got a long-term medical condition that needs regular medication, but ideally it's good to avoid taking any form of prescribed medication before or during the time when you're trying to conceive. This is because some medications can affect your fertility. It's not just the case for women – men's sperm production and development can be affected by medications too. If medication is an issue for either of you, speak to your doctor and discuss the options and don't stop taking something of your own accord without seeking advice.
Relax!
Finally, being stressed and anxious are both known to affect fertility, so get yourself into the prime fertile stage by relaxing. Get early nights, don't work too hard and take positive steps to decrease any stress you have in your life. Treat yourself to a massage to ease tension, enjoy a soak in a warm bath or go out for the day with your partner.
You might also like...