Preparing Yourself for Fertility Treatment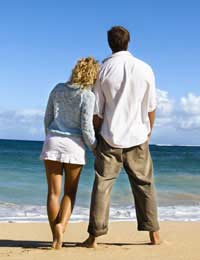 It is well known that having fertility treatment is an emotionally and physically gruelling experience. The whole process has its highs and lows, your body will be experiencing the effects of drug treatments and it can be emotionally draining for all involved. But by being aware of the potential effects, you can be prepared in advance for what might lie ahead.
Emotional Preparation
On the emotional side of things, fertility treatment is often likened to a rollercoaster, as you're likely to experience various ups and downs along the way. At the beginning, you may start of feeling excited and exhilarated and finally getting a chance to try for a baby, but as time goes on and, perhaps if treatment cycles are unexpected, the excitement may wear off and be replaced by emotions such as anger, resentment, disappointment and grief at your dream of a baby not yet happening.
For couples involved, it can really be a gruelling process to go through. Add to it the physical affects that women are likely to experience as they get used to the fertility drugs being administered, and you've got a tough combination.
Before your treatment commences, you'll be offered counselling by the clinic. Whilst you're under no obligation to accept the offer, it's well worth considering it – both before, during and after treatment – as talking things through with an impartial listener can be of great help.
You're likely to both be put under stress during treatment and being open to each other about the emotions you're experiencing at each stage is a good way of keeping communication going and easing some of the strain you'll be under. There's no right or wrong way to feel and you may both experience different feelings and emotions, and talking them through and accepting that you may feel differently is helpful. Be prepared to make regular time for each other and remember to ask your partner what support they need from you at each stage.
Physical Preparation
There are also some things you can do to prepare your body physically for the treatment that lies ahead. If you've been trying for a baby for a while, the chances are you'll already have put some methods into action, such as getting to a healthy weight, eating healthily, not smoking and getting plenty of exercise, which are all great ways of preparing yourself.
As your body will soon be experiencing treatment, most likely in the form of fertility drugs and hormones, it's good to be in the best state of health possible. Although designed to help you get pregnant, the drugs can have side-effects, such as causing you to experience mood-swings, headaches, nausea or sickness, and may well have a bit of a toll on you. Some people are more affected than others, and you may need to set aside time to rest and relax before the symptoms subside, but knowing in advance that this may happen can prepare you for it if such effects do occur.
In general, it helps to learn to 'go with the flow', observing the physical effects treatment is having on you and acting accordingly to deal with it. Don't panic if you have lots of side-effects, as it's just part of the normal process. As long as you're both aware of why it's happening, you can deal with it together. And if you're concerned at any point, your doctor or fertility clinic will be there to answer any questions or worries you may have.
There's no doubt that undergoing fertility treatment is a demanding and stressful experience. However, by being prepared for the onslaught of emotional and physical effects you may face, you can proceed knowing that you've got coping methods in place and are fully ready to tackle it.
You might also like...