Fertility Specialists and Who You Might See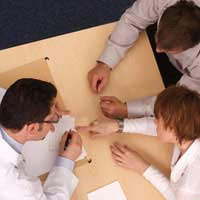 When exploring options for fertility treatment, it is best to seek the advice of a trained medical professional who can understand your unique situation and needs. Often, the initial evaluation for fertility is performed by the primary care physician. This may be a family doctor, internist or the gynecologist. Depending on the clinical training, they may or may not be comfortable with performing or interpreting routine fertility tests, and they may refer you to a specialist right from the beginning.
Regardless of who performs the initial assessment, it is still beneficial to consult a fertility specialist or reproductive endocrinology specialist. Fertility fellowships are specialisations within the field of obstetrics and gynaecology. In some institutions they may be referred to as reproductive endocrinology specialists. For males the fertility specialist is the urologist. Urology is a subspecialty of surgery, which covers medical conditions that may impact male fertility.
Female Fertility Specialists
Specialists in the field of fertility undergo additional training, which extends far beyond general obstetrics and gynaecology. They are trained to diagnose and treat special cases and can offer a more knowledgeable opinion with regards to treatment options and causes of infertility.
Fertility specialists are also trained in performing special procedures, which require delicate skill and exquisite precision. Procedures such as Invitro fertilisation, Gamete- Intra Fallopian Transfers using sperm and/or eggs, can only be executed by such doctors.
Fertility specialists are also trained to evaluate and treat reproductive hormone abnormalities. Hormonal abnormalities are a common cause of female infertility. The menstrual cycle is the work horse which facilitates a woman's reproductive potential. This precious cycle is under the control of specialised reproductive hormones. Fertility experts are trained in managing such cases and can offer appropriate treatment options.
Male Fertility Specialists
Other specialists who may be involved in the fertility assessment include urologists, who are mostly involved in the assessment of male infertility. Urology is a surgical sub-specialisation which requires approximately 5-6 years of additional post graduate training. Urologists perform fertility procedures such as vasectomies, vasectomy reversals and microsurgeries. They may also perform biopsy procedures to asses for testicular cancer.
Urologists also receive specialised training in fertility, but this is mostly related to pathological conditions effecting males. These doctors can also examine the endocrine profile and look for abnormalities in reproductive hormones which can contribute to defects in sperm production. Since urology is a procedure intensive field, some may defer the endocrine evaluation to an endocrinologist, or they may seek additional consultation from an endocrinologist themselves.
Fertility assessments require a multidisciplinary approach that should involve the primary care physician, the urologist, and the fertility/reproductive endocrinology specialist. This team of doctors can assess couples and work in unison to effectively diagnose the underlying cause of infertility. Based on the cause, further treatment options may involve either the female fertility expert, or the urologist, the male fertility expert. In some cases it may even involve both specialists. Since the causes of infertility, are so diverse, the specialist that will be involved will depend mostly on the underlying cause.
You might also like...