Counselling and Support When Receiving Fertility Treatment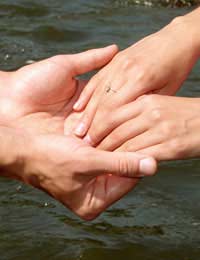 Receiving fertility treatment and facing the highs and lows of all it involves can be a stressful and draining experience. It's not something to enter into lightly and as you're likely to require plenty of support along the way, help is at hand in the form of counselling.
It's a requirement for all licensed IVF clinics in the UK to offer people counselling before they begin treatment. It's not essential to accept the offer if you don't wish to and you shouldn't be pressurised into having counselling, but it is worth having a think about before making a decision. You may think you know all you need to about treatment before you commence, but once things start, you may feel very differently. Receiving fertility treatment can prove to be a very gruelling process, draining you both emotionally and physically, and it can be deflating and upsetting to have to face the consequences when cycles fail.
Talking to a counsellor in advance of starting treatment can help fully prepare you for what's involved and how you might feel. Of course, your specialist or doctor will have already briefed you on the practical issues of the treatment, but they don't always have time to help you go through your feelings and how to deal with issues as they arise. For example, it's common for people to experience emotions such as anger, frustration, grief (when cycles fail), despair and resentment (when other people get pregnant and you can't seem to).
Counselling isn't only available before you begin treatment - it's on offer during the treatment too, so you have access to regular on-going support, as well as when you've finished. And if you've turned down the offer initially, it's there for you to take-up at any point during your treatment. Talking to friends and family is good too, but counselling offers a safe, independent and supportive environment in which you can talk openly about your feelings, on a level that may not be possible with friends or family.
Issues You May Need to Discuss
There are many issues involved in fertility treatment that you may need to discuss with a counsellor, both practical issues and other pertinent points that arise during the treatment process.
Sometimes having treatment can dredge up issues from your past that seem completely unexpected to you, but which a counsellor can help you discuss and work through. For example, they might be linked to your own childhood experiences or to your thoughts about having children.
Having children is often considered the normal 'done' thing and when it doesn't happen, some couples are made to feel abnormal, incomplete and like failures. It can be stressful going through the initial stage of diagnosis and, as much as clinics attempt to prepare you for what lies ahead, the reality of the additional stress is often hard to comprehend before you're in that situation.
If you're having treatment with donated eggs or sperm there may be issues surrounding the process and implications that you want to discuss and a counsellor can help you chat through it all. Even if you've considered things in advance, sometimes the act of starting treatment can trigger off a whole host of additional thoughts and concerns.
Sadly not everyone experiences success with fertility treatment and for those for whom it doesn't work out in the way they'd hoped; counselling can provide a vital shoulder to cry on.
Counsellors are impartial, there to offer much-needed support, a listening ear and a chance to voice your inner thoughts. They provide a fantastic service, so if you need to talk at any stage of your treatment, it's worth a go.
You might also like...
i have ovulation problem i need help with my firthility
We had fertility treatment.It was expensive in the end but we ended up having a baby in January this year.It was worth every penny and we are just enormously relieved that it worked out in the end.Good luck!!
Trying for a baby
- 26-May-12 @ 9:04 AM