Chapter 10: Health and Fitness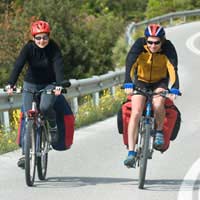 Both men and women can make some lifestyle changes that will increase your chances of conceiving.
Diet
A balanced diet will help ensure your body is healthy enough to conceive and nourish a developing baby. A healthy diet can also help to keep sperm production at optimum levels. If you are underweight or overweight (both of which can affect your chances of conceiving), take steps to improve dietary habits. The UK government also recommends that all women trying for a baby should take 400mcg (0.4mg) of folic acid day to help prevent conditions such as spina bifida.
Exercise
Regular moderate exercise of around 30 minutes a day helps to maximise your fitness and keep your weight in check. It also boosts levels of endorphins, which elevate mood and increase energy. Exercise routines can help you remain energetic and focused. It also helps reduce anxiety and stress.
Medication
Some prescription mediation can reduce your chances of conceiving, so if you are taking regular medication and trying for a baby, do talk to your GP about alternatives that might be more appropriate.
Alcohol
Alcohol may affect fertility and sperm quality (as well as affecting your weight), so do limit your drinking and stick to the Government's 'Sensible drinking' guideline - a maximum of 2-3 units a day for women and 3-4 units a day for men, with two alcohol-free days after heavy drinking. Women who are pregnant are advised to not drink at all during the entire duration of the pregnancy. In fact it is most beneficial to stop drinking even before pregnancy because alcohol has adverse effects during the babies organ development Organ development can begin within the first month even before a women is aware she is pregnant.
Smoking
Smoking has been linked to infertility and early menopause in women, and to sperm problems in men. It is also a factor in premature or low birth-weight babies. If you are a smoker and trying for a baby, this is a good time to quit!
Drugs
Street drugs such as marijuana and cocaine should be avoided as they can lead to low sperm counts in the case of males. In females cocaine can lead to premature bleeding due to placental rupture. Marijuana and cocaine use is also associated with low birth weight babies and premature birth.
Temperature
The testes should be a couple of degrees cooler than the rest of your body for maximum sperm production. So it may help to wear loose-fitting underwear and trousers, and to avoid activities such as saunas and hot showers that will raise the temperature of your testes.
You might also like...