When to See a Doctor?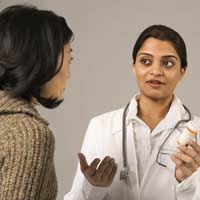 If you're trying to get pregnant it can be difficult to decide when to go see the doctor. Often women require several attempts and multiple menstrual cycles before becoming pregnant. Visiting the doctor is an important step in initiating the work up for infertility.
There is no magic number which dictates a time to visit the doctor about infertility. This is dependent on the individual situation which takes into account the woman's age and/or signs and symptoms of various reproductive abnormalities. It is however important to realise that you must have been trying to conceive for one year without success before it can be considered as infertility and warrant a full fertility evaluation. For women above the age of 35 or with menstrual irregularities it may be best to seek medical attention even earlier. Men also will require a check up for fertility, since they can also be a contributory factor in the inability to conceive.
Which Doctor Should you See?
When exploring options for fertility evaluation, it is best to seek the advice of a trained medical professional who can understand your unique situation and needs. Often the initial evaluation is performed by the primary care physician. This may be a family doctor, internist or the gynecologist. Regardless of who performs the initial assessment, it is still beneficial to seek the consultation of a specialist trained in the field of fertility or reproductive endocrinology, especially if one is considering fertility treatment procedures. For males the fertility specialist is the urologist. Urology is a subspecialty of surgery, which covers medical conditions that may impact male fertility.
Indicators of Infertility
Fertility assessments require a multidisciplinary approach that should involve the primary care physician, the urologist and the fertility/reproductive endocrinology specialist.
Infertility can be attributed to many causes from inherited conditions, infections and structural abnormalities. Among the common causes include polycystic ovarian disease, endometriosis and tubular dysfunction. If one has a history of these conditions, then they should be addressed to their gynaecologist. Specialists in the field of fertility, undergo additional training, which extends far beyond, general obstetrics and gynaecology. They are trained to diagnose and treat special cases and can offer a more knowledgeable opinion with regards to treatment options and causes of infertility.
Fertility specialists are also trained in performing special procedures, which require delicate skill and exquisite precision. Procedures such as In-vitro fertilisation, Gamete- Intra Fallopian Transfers using sperm and or eggs, can only be executed by such doctors.
Hormonal abnormalities are a common cause of female infertility as well. The menstrual cycle is the process by which ovulation occurs; abnormal menstrual cycles should be evaluated as soon as possible as they may signal problems with fertility. The menstrual cycle is under the regulation of the endocrine system. Women who have a history of endocrine diseases should also discuss the impact their condition may have on fertility.
Advanced maternal age plays a very important role in fertility, although infertility can occur at any age, it is more common after 35. The risk of infertility grows as the year's progress past 35. In such cases time plays a more prominent role in infertility and thus it is recommended to undergo a fertility evaluation after 6 month trial instead of waiting the full year.
In males difficulties with fertility may not be as obvious. If a couple is having trouble conceiving, it is just as important for the man to seek medical care as it is the woman. Urologists and reproductive endocrinologists are male fertility experts. The urologist can examine the reproductive organs for any structural abnormalities that can be attributed to the infertility. Reproductive endocrinologist can evaluate the endocrine system which can cause defects in sperm production and lead to infertility.
Concerns about fertility are extremely worrisome and effect couples of all ages. These concerns should be medically evaluated if repeated attempts have failed to result in a successful pregnancy. It is extremely important that both partners be checked out, to establish the cause of infertility. Once the cause is isolated, different treatment options can be explored specific to each individual couple. Recent advances in medicine have led to effective treatment methods for infertility such as, in-vitro fertilisation, specialised fertility medications and sperm donation. It is important to discuss these options as well as the associated risks with your doctor.
You might also like...