What is Premature Ovarian Failure?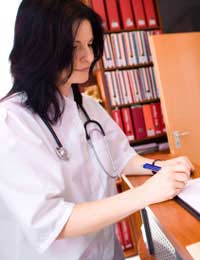 The fertility of all women declines as they get older and many women find it more difficult to get pregnant in their late thirties compared to their early twenties. For some women, it becomes impossible and one possible reason for infertility in women under 40 is premature ovarian failure (POF). This condition has several causes but it is basically a premature menopause; the ovaries stop release eggs and the hormones change as they normally do in the late 40s, producing menopausal symptoms. Around one in every 200 women could develop POF.
What can Cause Premature Ovarian Failure?
Most women never discover the root cause of their early menopause. Despite investigations, no obvious reason can be found. If this is the case, your POF is said to be 'idiopathic'. Some women are found to have an autoimmune disease that could be responsible and the genetic syndromes Turner's syndrome and a condition called Fragile X syndrome can also make premature ovarian failure more likely.
The other major cause is medical treatment – usually chemotherapy or radiotherapy to treat cancer. If a woman of 30 needs this kind of treatment, it is difficult to protect the ovaries from damage. Doctors often recommend that if you are in this position, you think carefully about storing some of your viable eggs for later in use in treatments such as IVF.
Diagnosing POF as a Cause of Infertility
One important clue that POF may be a cause of infertility is the absence of regular periods. If you are trying to get pregnant, this can be frustrating. A blood test can measure the levels of the hormone that stimulates eggs to develop in the ovaries – if this is much higher than it should be in a premenopausal woman who is unable to conceive, premature ovarian failure is always suspected.
Signs that the Ovaries are Failing
As well as infertility, common signs that a woman is experiencing premature ovarian failure are the appearance of menopausal symptoms such as vaginal dryness, hot flushes or sweats and mood swings. These symptoms can be treated by hormone replacement therapy but this does not enable the ovaries to recover; infertility caused by POF is usually not treatable, but it can be overcome using in vitro fertilisation.
Other Health Implications
As well as infertility, premature ovarian failure can mean that a woman is at much higher risk of other health problems. The underlying reason for POF can be some kind of autoimmunity and this condition can affect other tissues of the body such as the thyroid gland. Hypothyroidism due to autoimmune damage to the thyroid can develop in some women with POF.
The lack of oestrogen at a time of life when a woman should be at her most healthy can also have a devastating impact on her bones. The risk of osteoporosis is greatly increased, and treatment to replace hormones is often combined with strategies to make the bones stronger, such as calcium supplements.
Coping with Premature Ovarian Failure
Treatment to reduce the worst of the menopausal symptoms is available and most women find that this helps. The symptoms may be similar to the later, normal menopause but women with POF usually report that they are much more intense. Hormone replacement therapy is usually delivered by a skin patch that releases the hormone gradually each day, rather than as tablets. Women who are heavy smokers or who have a history of cardiovascular disease may not be allowed oestrogen replacement therapy as the risk of stroke can be increased.
There are strong suggestions that POF may be partly a genetic condition. There is no evidence yet as to what genes are involved but it has been noted that it runs in families. If studies do reveal good marker genes for the disease, this may help families educate their younger female members who then decide whether they want to have children earlier to perhaps avoid the problems of infertility later on.
You might also like...