Not Conceiving: Have You Tried This?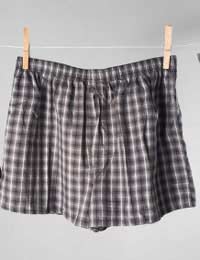 Around 1 in 6 couples become concerned at some time in their lives that they have a fertility problem. It may be when trying for a first baby, when you are impatient for things to happen quickly, or when trying for a second or third baby. Secondary infertility can be just as worrying as problems conceiving for hopeful first time parents. If you are trying for a baby just now, and perhaps thinking that you might have to have tests soon, why not try some or all of these suggestions for a while? You never know, one of them could make the difference you need.
Have You Tried Boxer Shorts?
This is a question aimed at male partners. Wearing tight underwear, particularly in hot weather or indoors where the central heating is turned up quite high, can reduce your sperm count. Boxer shorts are looser, allow more air to circulate and can allow your sperm count to improve naturally over a few weeks.
Are You Still Smoking?
If you are trying for a baby it's not only the hopeful mother who should stop smoking. Some of the components of cigarette smoke can cause blood vessels to tighten up, which makes maintaining an erection more difficult. Cut out the smoking and the boost to your sex life could mean more opportunities to get your partner pregnant.
Do You Enjoy a Tipple Too Many?
Drinking alcohol can reduce fertility in both sexes so, if you are serious about trying for a baby, stick to natural fruit juices and mineral water and leave the alcohol until you celebrate the birth with a glass of champagne.
Do you Like Hot Baths Too Much?
Here's another tip aimed at male partners that has the same basis as wearing boxer shorts. Taking hot baths or frequent hot showers can raise the temperature of sperm too high. Use cooler water and your sperm count should improve.
Are You Keeping An Ovulation Chart?
For female partners, recording your temperature at the same time of day for a period of a couple of months can help you pinpoint your ovulation time. Your temperature goes up for a couple of days around the time that an egg is released from your ovary. Make this time an extra sexy time for you and your partner and you could increase your changes of pregnancy.
Are You Having Sex Before Ovulation?
If you do keep an ovulation chart and can tell when you ovulate, try to have some romantic time before as well as after ovulation. This will increase the chances that sperm and egg will meet.
Are You Choosing a Good Position?
Positions with the woman on top are less likely to achieve pregnancy than when she is underneath. Stay lying down after sex to keep the semen in your body too – you can even try putting a pillow under the small of your back, to tilt the pelvis. The longer the sperm stay in your body, the better the chances of pregnancy.
Are You Eating For Fertility?
Healthy eating is definitely a good idea – lots of fresh fruit, vegetables and light meals so that you feel fresh and energised are all great.
Are You Getting Extra Folic Acid?
If you do get pregnant, taking folic acid supplements is highly recommended to prevent spina bifida. You can also include folic acid rich foods in your diet – by eating asparagus, spinach, lentils and concentrated orange juice.
Are You Relaxed?
Getting too uptight about getting pregnant and regimenting your sex life can be a real passion killer. It's better to relax, do things you enjoy with your partner, enjoy your life together, not thinking too much about conceiving. Once you take the pressure off, you might find that everything happens naturally.
Is Your Fitness Level Good?
Getting regular exercise is good for all-round health and is a great way of dealing with stress. Build some regular exercise into your schedule and the increase in fitness can do nothing but good.
You might also like...