Common Questions: What Do You Know About Infertility?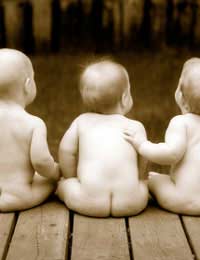 Sorting out the facts from the myths and the old wives tales is difficult when it comes to infertility. Check the facts on these common questions about infertility and see how good your knowledge is.
Isn't Getting Pregnant Easy?
You might think so because there are many unwanted pregnancies and many teenage girls get pregnant each year through lack of knowledge of contraception. It is possible to get pregnant after a one-night stand, when you have sex during a period, and without full vaginal intercourse. All it needs is one sperm...
Unfortunately, while this is all true as many as one in six couples have difficulty getting pregnant when they want to. This inability to achieve something that is seen as natural and unstoppable can be very distressing, leading to feelings of failure, guilt and low self esteem.
Isn't Infertility Usually the Woman's Fault?
This is a common belief. Women are the ones who get pregnant and give birth, so there is more to go wrong. The statistics show that this may be true in one way, but only a third of cases of infertility are due to female fertility problems. The other third are down to the male partner – a low sperm count, sperm that cannot swim well, misshapen sperm and so on. The remaining infertility is due to a combination of problems in both partners that limits their ability to conceive.
Isn't Infertility All in the Mind?
Although relaxing about getting pregnant is a good idea, it's not true to say that most cases of fertility are caused by stress. Many are due to an underlying physical problem such as blocked fallopian tubes, problems with sperm count or sperm quality, or a chronic pelvic infection in the woman. There are also rarer cases, in which the woman mounts an immune response to her baby, because the normal damping down of the immune system doesn't happen.
Don't women Often Get Pregnant When they Adopt?
This is so often cited by people who know someone this has happened to - but that doesn't make it true. Couples who adopt after having fertility problems get pregnant as a result of fertility treatment with the same success rate as couples in a similar position who don't adopt. The adoption doesn't make any difference. We probably get the idea that this happens often because it seems worth talking about. The fact that it's newsworthy means it's relatively rare.
Waiting Isn't a Problem Now, is it?
Many people think that the increase in fertility technology means that all fertility problems can be solved easily. Women are now fine to leave starting a family until their 40s, if they want to concentrate on their career first. This is not true. Fertility in women declines rapidly after her mid 30s and a woman of 40 is only half as likely to become pregnant when having regular, unprotected sex, compared to a woman of 25. Yes, fertility treatments are available, but in vitro fertilisation is not offered to the over 40s under the NHS. Only women 39 or younger are eligible. Leaving having a baby very late can mean expensive IVF treatments, with further delays in pregnancy reducing the chances of having a baby at all.
Don't All Women Who have Infertility Treatment Have Twins or Triplets?
There is a higher chance of twins being born to couples who go through IVF because two viable embryos are usually implanted. Often only one pregnancy results. Initially, in the late 1970s and 1980s, three embryos were implanted in IVF but the success rate increased so much that this was reduced to two more recently. It is now rare for IVF to result in triplets.
Using drugs to boost fertility can result in multiple births but, again, this is now done in a much more controlled way and with more experience. Having twins or more babies at once is now a fairly small risk, and one that is explained carefully as couples enter treatment.
You might also like...
yas thid is reall helpful fniks
poopzlisciouis
- 14-Apr-16 @ 2:24 PM