Thyroid Conditions and Infertility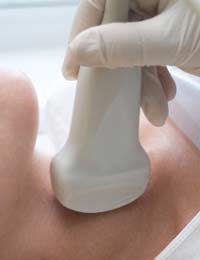 For many women who have difficulty getting pregnant, one of the worst things is not knowing why. Unexplained infertility occurs in a large percentage of cases: despite a range of tests, nothing obvious seems to explain why each month goes by with no missed period.
Although it is still a matter of debate among experts, thyroid issues can affect a woman's chances of conceiving. Having tests to assess your thyroid function and the presence of any anti-thyroid hormone antibodies in your blood may reveal a previously undiagnosed thyroid abnormality that could be a possible explanation. Treating the underlying thyroid condition has positive results in some women.
The Main Thyroid Problems
The thyroid is a small gland at the base of the neck and it produces several hormones that help to regulate the metabolism. An underactive thyroid will leave you listless, weak and with no energy but an overactive thyroid will make you restless, always on the go, and usually anxious and hyperactive.
Measuring Thyroid Stimulating Hormone
The level of thyroid stimulating hormone produced by the pituitary gland in the brain is the key to maintaining normal thyroid function. At the upper end of normal, at values that reach the threshold of a diagnosis of underactive thyroid, women often have trouble conceiving even though they may show no symptoms of thyroid problems. Drug treatment to reduce the level of thyroid stimulating hormone to lower level using thyroxine can help. Usually, a borderline underactive thyroid does not warrant medical treatment but doctors recognise that treating women who are trying to conceive and have not been successful, often pays dividends.
Thyroid Problems, Autoimmune Disease and Fertility
Thyroid problems are often caused by antibodies directed against the thyroid tissues. Any disease caused by antibodies produced by the body that attack its own tissues is referred to as an autoimmune disease. As antibodies damage the thyroid gland, it works less well over time. Even before levels of thyroid stimulating hormone signal subclinical disease, antibodies may be circulating in the blood and these can be a reason for reduced fertility and/or recurrent miscarriage.
It is possible to test for anti thyroid antibodies using a blood test and a sympathetic doctor may agree to order this test when he or she arranges the thyroid stimulating hormone check. It is, however, even more contentious that anti-thyroid antibodies impact on fertility, so not all doctors may think this is necessary. If antibodies are present, even at low levels, some women have become pregnant successfully after a short course of thyroxine treatment.
Some evidence to support the theory that higher levels of circulating anti-thyroid antibodies may be a factor in infertility have come from studies on women having in vitro fertilisation. More women with anti-phospholipid antibodies or anti-thyroid antibodies became pregnant during an IVF cycle if they were given treatment to counteract their effects. A different study also showed that women with anti thyroid antibodies suffer IVF failure much more frequently than women with negligible levels of those antibodies.
Subclinical Thyroid Problems and Pregnancy
Once a woman is pregnant, any undetected thyroid problems usually become worse because of the metabolic stress that the woman's body has to cope with during pregnancy. An underactive thyroid must always be treated in pregnancy because there is a high risk that the baby will not develop normally. Drug treatment with thyroxine and other thyroid treatments do not appear to harm the growing foetus but the treatment, thyroid hormone levels and the general health of both mother and child need to be monitored carefully over the whole pregnancy.
After the birth, checks need to continue to make sure the thyroid function stabilises and the treatment is then adjusted over the next few months. Often, women with borderline thyroid problems show complete remission of symptoms within a few months of giving birth, but these can return if she later becomes pregnant again. Once even minor changes in thyroid function become apparent, a woman needs to make sure she has regular medical care to manage her condition – probably for the rest of her life.
You might also like...