Pregnancy After Fertility Treatment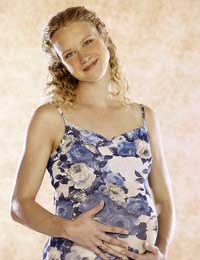 You've undergone fertility treatment, faced the highs and lows of it and have finally discovered you're pregnant – congratulations! It's what you've been always dreaming of, but being pregnant after fertility treatment can be a very emotional part of the journey for many people.
When your dream has finally come true and it's confirmed that you're pregnant, the first reaction is normally joy, ecstasy and celebration. Your dream of a baby has become reality. But after all that you've been through, the second reaction is equally normal – one of worry and fear that everything will be okay. Although you've come a long way in your assisted conception journey, being pregnant unfortunately doesn't guarantee a smooth run. Like any other woman, you could be about to face pregnancy side-effects, strange symptoms and the risk of complications - not to mention lots of sleepless nights after your baby is born!
It's perfectly natural to find yourself wracked with worry that things may go wrong with your pregnancy, but you'll do neither yourself nor your baby any good being constantly anxious and concerned. Many people who become pregnant as the result of fertility treatments have healthy, normal and problem-free pregnancies. Admittedly, there will be some for whom the road isn't quite so smooth and, as with any pregnancy, there will be couples who sadly lose their babies. But worrying about what might be isn't fruitful for anyone and the best thing you can do is relax and take each day at a time.
Antenatal Care
As with any pregnancy, you'll be looked after along the way by your doctor and midwife and will be offered all the usual routine antenatal tests. Both your health and wellbeing, and the health and development of your growing baby, will be fully monitored throughout. Keeping your health in optimum condition is very helpful, so it's wise to follow all the usual pregnancy advice and eat healthily, avoid alcohol and smoking, take folic acid supplements, have regular exercise and avoid potentially risky activities.
Fertility treatment increases the risk of giving birth to twins or multiples and, if you do turn out to be having more than one baby, you can rest assured that you'll be looked after extremely well. On the whole, your experience of pregnancy will be similar to those women having a single baby, but you'll be monitored even more regularly and may have some different antenatal tests offered.
It's easy to worry about the new experiences you're going through, especially if it's your first pregnancy, but don't forget that it's okay to ask for advice if you're ever concerned. Don't be afraid that you'd be bothering your doctor or midwife or wasting their time, as it's better to put your own mind at rest, rather than worry endlessly about something that might turn out to be normal and minor.
Having a baby after receiving fertility treatment can be a thrilling and exciting time, but if you do feel exhausted and anxious about it, just remember that it's a normal reaction and you're not alone. You've come a long way on your fertility journey and have plenty to celebrate when your baby finally enters the world.
You might also like...