Does Breast Feeding Affect Fertility?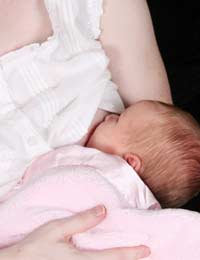 If you have ever done any family history and looked at the birth records of children born to families in Victorian times, you may have been surprised by the even spacing of the children. Families did not tend to have children every year, as you might expect in the age when contraception did not really exist. Children were more often spaced two or three years apart. One of the main explanations for this observation is that when women used to have a baby, they would breast feed it until the age of 18 months or even beyond. Early nursing took place with feeds at any time of the day or night. It was not until the 1950s that the artificial regime of feeding every four or three hours took hold.
Breast Feeding Suppresses Fertility
When a woman breast feeds a baby on demand, feeding very often during the day and the night, she produces high levels of the hormone prolactin. This stimulates enough milk to keep the baby satisfied but it also has another major effect on her body – it suppresses the production of the sex hormones that cause her ovaries to start producing eggs again.
Breast feeding has always been a natural form of contraception and has always been a natural way of spacing children so that they do not arrive too close together, when they would have been a pressure on milk and other food resources for the mother and the family.
Does Breast Feeding Work As a Contraceptive?
Although we now live in modern times where contraception is readily available, some women do not want to use contraception for either personal or religious reasons. After having a baby, it is still possible to use breast feeding as an effective method of putting off the next baby, even if normal and regular sex resumes. There are some key points to note, however. If a woman starts to supplement a baby's milk with formula milk at any time, or restricts feeding to be 'every three hours' or some other time period, or introduces solid foods before the baby is six months old, the amount of suckling at the breast is unlikely to be enough to stimulate enough prolactin to stop the normal levels of sex hormones being produced.
If, on the other hand, the baby suckles most of the time in the day and night, and doesn't start solid food until after six months and then carries on suckling regularly for up to a year, the contraceptive effect of breast feeding can sometimes last for three years – well after all the milk has dried up.
Disadvantages of Breast Feeding as a Contraceptive
The obvious one is that of time. If you have just had a first baby and are not under financial pressure, then breast feeding for six months constantly, and keeping it up after that may be OK for you. If you have a toddler or older children, it may be more difficult. It is amazing how Victorian women must have managed. Today, many women have to return to work to keep money coming in for the family – and although there are now machines to express breast milk, that will never compensate for the loss of suckling time and fertility is likely to return within a few months of the birth.
Breast Feeding is Good for Other Reasons
Most women don't think about the impact of breast feeding on fertility. It has many other advantages – passing on vital antibodies to a newborn baby, the closeness and bonding and the release from washing bottles all day long. Although there are good things to be said about breast feeding, it should still be a matter of choice. If you have breast fed for a few months and then really want to stop, do not feel pressured into carrying on. Different women produce different amounts of milk and babies grow at different rates and have different needs. Some breast feeding is always good and better than none at all – but don't think you need to do it as a method of contraception if you would rather use a modern method after the first few months.
You might also like...