Losing a Baby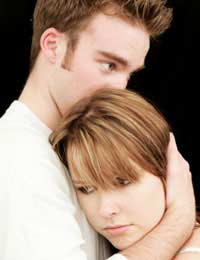 There's nothing worse for parents than losing their beloved baby. Whatever the age or stage of your baby and whether you lose your child during pregnancy, birth or in their early years, it's just as hard and brings with it a range of emotions.
When you've always dreamt of starting a family and especially if you've ever experienced any fertility issues or had fertility treatment, it's a massive blow to subsequently lose your baby. When you lose a baby, you're likely to find yourself in a state of emotional turmoil. You may experience a range of emotions, such as distress, grief, shock, anger, depression, disbelief or just feel terribly numb.
Miscarriage
Losing your baby as the result of miscarriage can be very difficult at any stage, especially as you'll probably miss out on any opportunity to even see or hold your baby. It's good to retain memories to be able to look back on in later years, even though it can be difficult to do so at first. For example, hold on to any pregnancy scans you had or try writing down how you felt about your unborn baby or what it felt like to feel your baby kick or move around.
Still Birth or Birth Complications
If you've lost your baby as a result of stillbirth or complications following birth, then things will be made worse by the fact that your body will be in a post-pregnancy state, with your breasts producing milk, which can be very hard to cope with. In situations such as this when your baby has been born, creating memories can be of help to some people. For example, although it may be difficult, it can help to:
See and hold your baby for as long as you want to.
Make a print of a hand or foot, to treasure and keep.
Retain a lock of their hair.
Perhaps dress your baby in any clothes you'd bought ready.
As with any loss of life, having a funeral, blessing or memorial service after the death offers a chance for you to grieve for your lost baby. Many parents benefit from having a memorial put somewhere special so they can go and be with their baby whenever they feel the need.
Longer Term Coping
The mixed emotions and emotional turmoil can continue indefinitely after you've lost a baby. As with any grief, the grieving process takes time and not everyone deals with it in the same way. Neither is it something that has a set time limit – everyone differs with how long it takes and there's certainly no right or wrong length of time.
Some people may find it better to try and get back to normal as soon as possible, but for others, it's the last thing they want to do. It can be difficult seeing other pregnant women or parents with babies and young children, as it immediately brings back the realisation of what you've lost.
Many people benefit from talking about their baby, although it can be difficult to gain support from friends or family who may fear upsetting you. Due to this, it's worth considering seeing a counsellor or a specialist, such as in stillbirth or miscarriage, who will understand your situation better and may be able to offer the support you lack. There are also many support groups set up by others in the same situation and these can be very helpful too.
There are no right or wrong ways of feeling or dealing with the grief of losing a baby and everyone copes in their own way. The effect of losing a baby will never leave you and it's good to never forget your baby, but over time it will hopefully become easier to accept.
You might also like...