Male and Female Infertility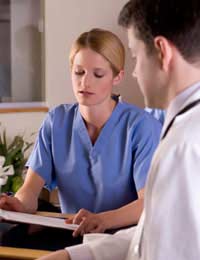 Infertility isn't a problem that's confined to one sex only – it can affect both men and women. It's defined as the failure to achieve pregnancy after at least one year of regular unprotected sex and can occur when you're trying for a first baby (primary infertility) or a subsequent baby after a successful pregnancy (secondary infertility).
Male Infertility
Male infertility is common and statistics suggest it accounts for more than 25% of cases. In fact in at least 15% of couples, the inability to achieve pregnancy is solely due to a problem with male fertility. There are several reasons why men can suffer from difficulties with their fertility. Some of the key causes include:
Sperm disorders, for example affecting the number of sperm, their movement or shape
Blockages in the tubes that carry sperm (caused by groin surgery, injury, sexually transmitted infections) or a vasectomy
Injury or disease of the testicles
Genetic disorders, such as chromosome abnormalities
Problems achieving erections or with ejaculating
Hormone problems
Variococele
Fertility reduced by the effect of drugs
Exposure to environmental toxins and radiation
Other general medical conditions that impact on fertility
All of these factors can affect fertility and if infertility is diagnosed, will be thoroughly investigated to find the probable cause. Infertility in about 5% of couples is due to problems with sex, such as erectile dysfunction, failure to ejaculate or ejaculating too soon.
Female Infertility
There was a time when it was assumed that all fertility issues must be due to problems concerning the woman. But thanks to increased medical knowledge and scientific developments, it's now widely recognised that both men and women can be affected by infertility. Statistics suggest female infertility is involved in about 40% of cases.
Again, the causes of the problem are many and varied, but some of the common reasons include:
Blocked or damaged fallopian tubes
Failure to ovulate properly or other ovulation problems – often caused by irregular periods or hormone conditions, such as polycystic ovarian syndrome (PCOS)
Endometriosis
Fibroids
Hostile cervical mucus
Polycystic ovarian syndrome (PCOS)
In 15-20% of cases doctors are unable to find a specific cause or obvious reason for infertility, so it's labelled as a cause of 'unexplained infertility.'
The normal functioning of the fallopian tubes can be affected by infections, causing them to become blocked. One of the most common infections causing difficulties is the sexually transmitted, Chlamydia, which can remain silent for a long time and cause no obvious symptoms. Up to 70% of women find their fallopian tubes are blocked because of Chlamydia, but it's often not until they try for a baby that they become aware of it.
If you suspect that either of you could be affected by infertility and you're keen to start a family, it's important to see a doctor as soon as is viable. Due to the criteria surrounding the definition of infertility, you won't be applicable for treatment unless you've been having unprotected sex together for at least one year, but as soon as that time is up, you can start investigating the issue. There's no guarantee that fertility treatment will work for you, but there's nothing to lose in exploring the possibilities.
You might also like...