Diabetes & Male Fertility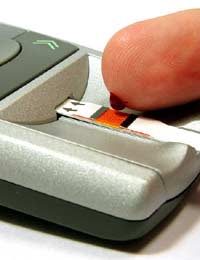 There are many reasons why a man might find he has problems with fertility but not many realise that other aspects of their health can contribute to this problem; even those that are not connected with the reproductive tract in any obvious way. Diabetes is one of these diseases.
Male fertility problems are becoming increasingly common with the high increase of sexually transmitted infection spread but now research has shown a definite link between diabetes and male fertility.
How Does Diabetes Affect Fertility?
Recent research has shown that the sperm produced by men suffering with the condition diabetes have more damage to the sperm than those who do not have the condition.This damage may lead to problems conceiving and in the event that a conception does occur, a higher rate of miscarriage.
The study into this area is one of the first of its kind and a greater sample and more detailed work needs performing before any further knowledge is gained.
The biggest problem with the finding is the worrying statistics that show the sharp increase in the rate of diabetes that is occurring in the UK at the moment. Lifestyle choices and genetic inheritance have shown a steep incline in young men being diagnosed with the condition.
Although it is not thought at the moment that diabetes is the most frequent cause of male infertility, the chances of it becoming so in the future are fairly probable as more people seem to be diagnosed with either type 1 diabetes of the more common type 2 diabetes.
What Can Be done About This?
At the moment, the government is on a huge drive to try and make the nation a healthier race and is desperately trying to curb the incidence of obesity and weight gain, particularly in the young. Being over weight is one of the leading causes of diabetes and we should now all be aware of how important our diet is.
Once someone is diagnosed with diabetes, there is no way of curing the condition and it must be managed with medications and diet for life. The most important thing once diabetes is suspected is to have it officially diagnosed and treated as soon as possible in order to avoid some of the more serious complications of the disease of which there are many.
Diet, exercise and lifestyle are the root of many medical conditions and it is essential that we do our best to try and prevent ourselves from gaining too much weight, becoming unfit and drinking alcohol and smoking. This is the best way ion which people can try and prevent the consequences of long term health problems.
What Can Men Do To Help Improve Their Fertility?
As already explained the greatest steps we can do to try and protect damage to our fertility and indeed other areas of our body is to make sure we are eating a varied and healthy diet, getting plenty of exercise, drinking lots of fresh water and also by protecting ourselves from sexually transmitted diseases as these are a leading cause for male infertility.
Although it is not the sole cause of male fertility problems, experts have found that there is a definite link between the two and are worried about how this might affect our future due to the increase in the incidence of the disease.It is important that we try and prevent diabetes by looking after our bodies and making sure we take enough physical activity, eat well and healthy and be aware of the factors that contribute to the development of diabetes.
You might also like...
No, diabetes is caused by the pancreas not creating insulin anymore. It isn't a sexually transmitted disease!!!!
alx
- 28-Jun-14 @ 2:47 AM
i want to know if someone can pass diabetes to someone through sex.
babs
- 1-Jul-13 @ 7:10 PM