How Body Weight Can Affect Your Fertility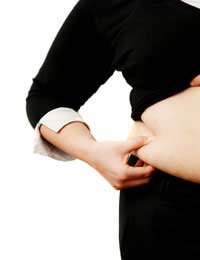 When couples decide to get pregnant, the process seems easy and natural. Unfortunately, around one in six couples experience problems with their fertility at some point in their lives. Having tried to avoid having a baby for several years, it can be very frustrating to then try for a baby only to find that nothing happens month after month.
Usually in the UK, it is rare for couples to be referred for fertility tests until a couple has been trying for a baby for at least a year. This involves having regular sex without contraception, and does not include time just thinking about trying. A year can seem a very long time under these circumstances and many couples find it helpful to try natural methods of boosting their fertility.
Body Weight and Fertility Issues
One of the first things that fertility experts recommend that couples look at is their general level of health and fitness, and, in particular, their body weight. An adult man or woman is classed as having a healthy weight if their Body Mass Index (BMI), which is their height divided by their weight, is between 18 and 25. If you or your partner's BMI (or both) is under 18, you are underweight; if it is between 25 and 30, you are overweight, and over 30, you are obese.
Being Overweight, Obesity and Fertility in Women
Women who are overweight often find that it takes longer to get pregnant. Having large volumes of excess body fat disturbs the normal balance of sex hormones, including oestrogen, which can interfere with the normal monthly menstrual cycle. If you are overweight or obese and find that your periods are irregular, losing weight and becoming fitter could help stabilise your hormone levels and enable you to become pregnant.
Polycystic Ovary Syndrome and Fertility Problems
Some women who are overweight and fail to conceive have an underlying medical condition called polycystic ovary syndrome. Their ovaries produce many tiny cysts, which interfere with normal hormone production and the release of eggs. Other symptoms include having a lot of facial hair and body hair that is obvious. It is difficult for affected women to lose weight but if they can, their symptoms usually improve. Hormone supplements can also help but one way that doctors can do this is to use the contraceptive pill, which is a problem if fertility is an issue.
Being Underweight - How does being Thin Affect Fertility?
Many people think that thin is good and thinner is better but if your weight drops so much that your BMI falls below 18, your body systems are not working at their optimum level. People with anorexia, or who diet for a sport such as gymnastics or ballet, often find that their periods stop for months on end. If this happens, it indicates that you are not ovulating so there is very little chance of becoming pregnant.
Men, Weight and Fertility
A male partner's body weight is not such an issue in the medical sense but it can have a big psychological impact on couples. Like women who are overweight, larger men can have self-confidence issues, which can lead to depression and a loss of interest in sex. Being very large makes it physically uncomfortable to actually have sex too, and this can cause couples not to have intercourse often enough at the right time of the month to get pregnant.
Self-help for Weight-related Fertility issues
There is a lot that you can do for yourself to improve your fertility if you are overweight or underweight, but you may need professional help to get started. A visit to your GP can help as they will arrange for you to see the practice dietician and get advice on how to lose weight reliably. Do not be tempted to try fad diets or internet-based miracle slimming supplements. None of them will work and they could harm your health, making it less likely that you will conceive.
Losing weight gradually is best, and doing this will involve getting into healthier eating habits, drinking less alcohol and taking more exercise. Every pound that you lose will bring you closer to a healthy weight and you will be fitter generally, which will help prepare your body for pregnancy. Male partners who lose weight will have more energy and will be more resilient when the time of night feeds and no sleep eventually arrives.
If you have a substantial amount of weight to lose it may be helpful to join a reputable slimming group so that you have the support of others, and you can check your progress at a weekly weigh in.
You might also like...