Ethics of Egg Donation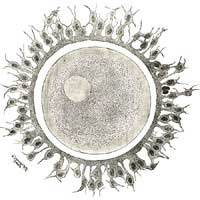 When a couple undergoes In Vitro Fertilisation (IVF), her body is stimulated to produce many eggs that can then be fused with her partners sperm to create useable embryos for implantation. However, some women are unable to produce their own eggs for many different reasons.
Many infertile women have a problem with the quality and quantity of eggs they produce. A woman whose infertility is due to endometriosis may have so much internal scarring that the eggs in her ovaries are not accessible and cannot be retrieved. A woman may be a carrier of a genetic abnormality but still wants to have a biological child fathered by her partner. The chances of a successful pregnancy with IVF decrease with the age of the egg donor, so a woman of 40 who has had several failed IVF cycles may only have a chance of becoming pregnant with another IVF attempt using eggs donated from a younger woman.
These circumstances mean that the demand for donated eggs is high, much higher than the number of 'spare' eggs that are retrieved from women undergoing normal IVF. Some women are now donating their eggs, even though they are not otherwise involved in fertility treatment.
Should Egg Donation be Allowed at All?
Some people say that all assisted reproduction is against nature and is therefore unethical. People who follow Catholic teaching disagree completely with egg donation, for example. Others accept that egg donation can help infertile couples conceive a much wanted child that will be cared for and brought up in a loving home.
Even so, the issue of egg donation by women who donate their eggs for use in IVF procedures is fraught with ethical concerns in many countries in the world. The issue of whether donors should be paid for their eggs is a particularly thorny one. Another matter for debate is whether women should be asked to donate their eggs to create embryos for research purposes.
In many countries, research like this is allowed but highly regulated but many embryos are required. Some doctors believe that the research is important but that the risks to women donating eggs are too great and cannot be justified.
Egg Donation and the UK
Until 2007, the regulatory authorities in the UK only allowed excess eggs derived from women undergoing IVF to be used as donated eggs. Two years ago, altruistic egg donation was approved for the first time, with women allowed to donate eggs even though they were not otherwise involved in any assisted fertility procedures.
Although the idea of paying women to donate their eggs in the UK has been discussed, payments have been limited to small amounts that cover things like travel expenses and childcare during treatment. Some people see this as unfair since an egg donor needs to be prepared to have her ovaries stimulated to produce around 325 to 30 eggs at once, and then to have an out-patient surgical procedure to recover the eggs. This involves passing a large needle through the vagina into the body to the ovaries. Both the ovary stimulation and the recovery of eggs involve significant risks to the health of the donor.
In comparison, sperm donors are paid £50 for each donation, and a man is free to make as many as 50 donations in a six-month period, giving him the potential to earn £5000 per year for a procedure that carries no risk at all.
Egg Donation in the USA
Egg donors in America are paid for their donations, with payments of several hundred dollars being the norm. In one way, this seems fairer but there have been problems relating to the amount of payment and conditions set by the clinic or the prospective parents. Stories abound of women who have a college education, a particular intelligence level or specific physical characteristics being offered very high sums of money for their eggs. Adverts to attract such donors appear regularly on the Internet.
Ironically, the USA has also seen women disadvantaged by the payment system. There are reported cases of women who have taken a payment of a few hundred dollars but have then suffered complications as a result of ovary stimulation or egg collection and have then had to pay their own medical bills for after-care. These have often exceeded the original fee, leaving the egg donor financially worse off and in poor health.
The Future
It seems inevitable that the demand for donor eggs for assisted fertility treatments will continue to increase and that more healthy young women will become egg donors. Regulation should ensure that the rights of the donors, as well as the interests of prospective parents and the children are balanced so that egg donation is as safe and effective as possible.
You might also like...