Obesity and Male Fertility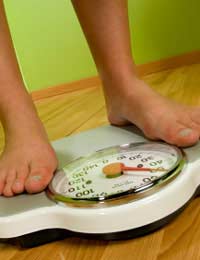 It is well known that being overweight or being clinically obese can have an adverse impact on a woman's fertility. However, until very recently no research had been done to find out how a man's ability to father a child can also be affected by carrying a lot of excess weight.
Some Initial Studies
One study, completed in 2006, first hinted that in couples who had problems having a child, obesity in the man as well as the woman was associated with an increased level of infertility. The results were obtained from a questionnaire sent out to 1500 people, all of them of childbearing age, to determine their BMI and whether they had any problems conceiving. As a research method, this is less reliable that a direct study using medical records but it suggested that men who were obese were twice as likely to have difficulty fathering a child. The researchers estimated that putting on a stone and a half in weight could increase the man's chances of infertility by as much as 10%.
Another study, which was published at the end of 2008, agreed that male obesity and infertility were linked. This study looked at the quantity and quality of sperm produced by a total of 390 men. The subjects of the study had all seen their doctor with infertility problems and were in the process of investigating possible fertility treatments. About a quarter of the men were of average weight, just over 40% were classed as being overweight and a third were judged to be clinically obese.
Men who were identified as being obese were three times more likely to have a low sperm count as men of the same age and background who were within the average weight range. As well as having a lower number of sperm, the sperm that were produced by obese men also had problems swimming, and more of them were misshapen. The combination of these three factors in the same man could easily lead to infertility and any one factor present on its own could lead to reduced fertility.
Can the Impact of Obesity be Reversed?
One limitation of this most recent study is that it is only a snapshot of the state of the men's sperm at one particular time point. No information could be gleaned about the history of each man, how long they had been obese or how this matched up with a decline in sperm quality and number. The researchers involved said that they would also like to be able to find out how future loss of weight could affect sperm counts and whether the problems they observed could be reversed.
Why is Male Obesity Linked With Infertility?
It is thought that one of the contributory factors to infertility in obese men is the lower levels of the male sex hormone testosterone and the higher levels of the female hormone oestrogen that circulate in their bodies. This is because fat cells actually produce oestrogen in both men and women – which is why overweight men tend to develop breasts. When a man has a large amount of body fat, the oestrogen produced is significant and could reduce his sperm production.
Hormones, however, may only be part of a much more complex explanation. A higher body mass index is known to increase the chances of erectile problems and impotence. It has also been suggested that overweight men may have a lower sex drive, and may not have sex as frequently. Behaviour, body image and self-esteem issues are probably also important.
Good Reasons to Tackle Obesity
There are many good reasons for maintaining a healthy weight by eating a healthy diet and taking regular exercise. Preventing infertility is just one of them. Obese men are also at a much higher risk of cardiovascular disease, high blood pressure, high blood cholesterol and of various types of cancer. Being overweight is a known risk factor for prostate cancer in men, and for breast and endometrial cancer in women, as well as pancreas, rectum and colon cancer in people generally.
If you are overweight and your partner is having difficulty getting pregnant it could be worth seeking the advice of your doctor about losing weight sensibly before opting for expensive and emotionally difficult fertility treatments.
You might also like...