Sexually Transmitted Infections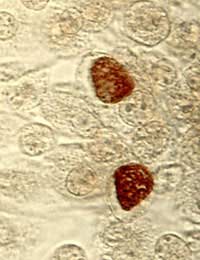 Sexually transmitted infections (or STIs) can have serious affects on your health, plus some can also damage your fertility. In some cases, they remain undiagnosed for years, putting your health at risk without your knowledge.
Sexually transmitted infections are caused by micro-organisms which are passed from one person to another during sexual intercourse and other forms of intimate physical contact, such as oral sex. There are numerous different types of STIs, which cause a range of instant and long-term symptoms, and the infections are normally types of viruses or bacteria. Some of the STIs that are particularly known to affect fertility include Chlamydia, Gonorrhoea and Syphilis.
Chlamydia
Chlamydia is the most common form of STI in the UK. It is a bacterial infection that is particularly rife in people under 25 years old, affecting about one in 10 people or just under half a million. It often has no symptoms, so can lie dormant and unknown for a long time. This can cause problems, as if untreated it can result in Pelvic Inflammatory Disease (PID) and cause fertility problems, particularly infertility in women. In men it can affect the testicles and sperm, as well as affect joints.
Experts believe that up to a third of all IVF treatments – which equates to 5,000 – 10,000 couples - are needed due to the damage caused by Chlamydia. The Chlamydia infection causes problems by damaging the hairs along the fallopian tubes where the egg travels from the ovaries to the womb. The damage can result in scarring, which in turn blocks the tubes. If the tubes are damaged, it's still possible to get pregnant but as a double whammy, there's an increased risk of having an ectopic pregnancy.
Gonorrhoea
When contracted after having unprotected sex with a carrier, this bacterial infection can affect the vagina, urethra, rectum and penis, plus it can affect the mouth through oral sex. Some people experience no symptoms at all and unknowingly carry and pass on the infection, but for others the symptoms are obvious. Women experience a yellow or green vaginal discharge and pain when weeing, whilst men have a similar yellow or green discharge from their penis and also find it painful when weeing. Sometimes it's accompanied by itching and an anal discharge – all rather horrible symptoms.
If the infection isn't treated and especially if there are no symptoms present, it can pose a risk to the fallopian tubes and reduce fertility.
Syphilis
This nasty bacterial STI is thankfully not as common now as it used to be and, if it does occur, it can be treated early on with antibiotics. The symptoms in men and women are unpleasant, starting with a sore ulcer around the vagina, anus or genitals. The ulcer subsequently heals up and is generally painless, but lasts for around six weeks. It's often followed by flu-like symptoms that make you feel unwell, including a fever, headache, rash, sore throat and swollen glands. If left untreated you can be left with syphilis in your system for many years to come, which can cause serious complications such as infertility, problems with your heart, blood vessels, bones, skin and brain.
Avoiding the Risk of STIs
The best way to avoid the risk of catching any STIs that may harm your fertility is to practice safe sex and use condoms for vaginal, anal and oral intercourse. However, if you suspect you could be affected by an STI or you've had frequent changes of partners, it's important to see your GP, family planning doctor, genitourinary doctor (at a GUM clinic) or gynaecologist for diagnosis, advice and treatment.
You might also like...