Polycystic Ovarian Syndrome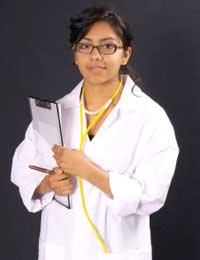 Polycystic ovarian syndrome (PCOS) is a condition commonly found in young females and is especially common among people of African origin. If you are young and experiencing symptoms of; irregular menses, excess facial hair, obesity and infertility, a test for PCOS is warranted. This is also one of the most common causes of female infertility.
Polycystic ovarian syndrome PCOS, was previously given the name, polycystic ovarian disease, but due to its high frequency, it is described as a syndrome. In the medical community it is often referred to as Stein-Leventhal disease (named after the two doctors who first identified it).
PCOS is a multi-systemic condition involving the female reproductive organs, adrenal glands and the endocrine system. It is caused by the development of multiple cysts in the ovaries. It can occur in one ovary or both and the exact cause is not known. These cysts are benign and do not cause ovarian cancer. The cysts are, however, resistant to hormones such as follicle stimulating hormone (FSH) and luteinizing hormone (LH).
LH and FSH are the principle hormones involved in initiating the process of ovulation. Normally the ovaries respond to these hormones by producing oestrogen, but in this case oestrogen isn't produced properly and there is inconsistency in ovulation. Hormones are normally regulated by a self governing cycle known as "negative feed back inhibition." This means that when a hormone is produced in sufficient quantities it inhibits the signal which is stimulating its production. For example FSH signals the ovaries to produce oestrogen. When oestrogen is produced in sufficient quantities it automatically decreases FSH concentrations. In cases where there is no response to the stimulating hormone, there is no feed back inhibition so the body continues to produce more and more stimulating hormone. These hormones in excess quantities start affecting other parts of the body. Below is a list of the symptoms of PCOS.
Signs and Symptoms of PCOS: (Not all inclusive)
Insulin Resistance ( Type II Diabetes)
Acne
Male Pattern Hair Distribution (Upper Lip and Chest)
Elevated Levels of Androgens (male hormones)
Ratio of LH to FSH is 3:1
Lower Abdominal pain
Menstrual irregularities
Annovulation (failure to ovulate)
Infertility
Obesity
Treatment:
Treatment primarily is focused on treating the symptoms of the disease and includes:
Weight reduction to control obesity. This is one of the most important parts of the treatment since it can also improve diabetic symptoms as well.
Oral contraceptives to regulate the menstrual cycle, which can also subsequently improve the acne
Fertility medications for patients wishing to get pregnant, (fertility medication can be given to stimulate the ovaries for ovulation)
Diabetic medication to control blood sugar levels
Electrolysis and laser treatment can remove some of the excessive body hair and once the hormonal imbalance is controlled; the unwanted excess hair will reduce as well. Sometimes medications such, as Spironolactone, can also be used for this purpose.
Polycystic Ovarian Syndrome can be a distressing illness, especially if you are keen to have a baby. However, there are treatments out there to help overcome the problems it can bring with it.
You might also like...