Fibroids of the Uterus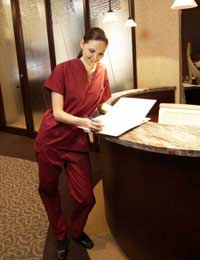 Fibroids or Leiomyoma Uteri, as it is often referred within in the medical community, are benign non cancerous tumours of the uterus. They occur mostly in women of childbearing age and represent one of the most common benign tumours in women. It is estimated that about 70% of women will develop fibroids at some point in their life. These tumours may go unnoticed, and do not usually cause symptoms until they grow substantially in size. The physician may find these tumours incidentally, during routine pelvic exams, and or during a sonogram.
What Causes Fibroids
The uterus is a balloon shaped muscular structure that has an inner layer, a middle layer and an outer layer. Fibroids can form in all three layers, leading to a variety of symptoms. The cause of fibroids is still unknown, but clinical research suggests that reproductive hormones, oestrogen and progesterone play a role in their growth. The constellation of symptoms, are dependent on the location of the fibroid tumour.
Fibroids can occur either internally within the uterus, or externally outside the uterus. Internal symptoms include heavy menstrual bleeding, prolonged periods, and or intermittent bleeding. When fibroids grow on the anterior (front) outer surface of the uterus they can exert pressure on the bladder, leading to urinary urgency, urinary incontinence, and in complicated cases urinary retention. When they grow towards the posterior (back) outer surface they can compress the rectum, leading to constipation and backache.
Treating Fibroids
Although fibroids are rarely a cause for concern, they will still require a complete evaluation to rule out other more dangerous conditions, that may be cancerous and even life threatening. Diagnostic methods for detecting fibroids, include ultrasound, specialised X-rays using contrast dyes, laparoscopy, CT-Scan and MRIs. A thorough history and physical exam can provide clues to the doctor, regarding the location of the fibroids and thus select the best tests to aid in its detection.
Fibroids are generally treated when patients become symptomatic, since subjecting the patient to invasive procedures and surgery will lead to unnecessary pain and discomfort, as well as increase the risk for possible complications. Traditional treatment options include myomectomy, or hysterectomy.
Myomectomy involves surgical removal of the fibroid whilst preserving the uterus. This may be preferable for women who desire children, but at the expense of increased risk of fibroid recurrence. For women who no longer desire anymore children a hysterectomy may be preferred. A hysterectomy is a surgical procedure whereby the doctor removes the diseased uterus. It offers definitive treatment without the risk of recurrence.
Until recently, surgery was the only treatment option, however in the past 10 years; a new non-surgical procedure has been introduced to treat fibroids. This procedure uses embolisation to close blood vessels, which nourish the growing tumour. By severing the tumours blood supply, the fibroid shrinks usually within 2 months.
Fibroids can be a tremendous cause of concern for women especially, since it is often referred to as a tumour. Despite this cancerous connotation, it is often not as dangerous as it sounds. They are a relatively common finding within the reproductive age population, often found incidentally during routine examinations. If symptoms occur, it may be appropriate to explore treatment options with your doctor.
You might also like...