Endometriosis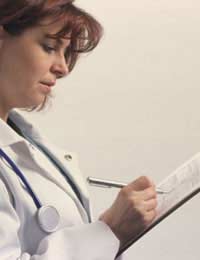 Up to one in 10 women suffer from the condition endometriosis and if you're trying for a baby, it sadly could affect your chances of getting pregnant.
Endometriosis is a condition where the cells found in the lining of the womb – the endometrium – grow on organs outside the womb. They're most commonly found on the ovaries, fallopian tubes and the tissues that hold the womb in place, but are sometimes found in the bladder, bowel and organs in the pelvis. Even though they're not in the womb, the cells go through the same monthly changes as the womb does, including swelling and bleeding.
However, unlike the bleeding involved in a normal monthly period, which escapes from the body via the vagina, the blood has nowhere to go, so stays inside and can cause adhesions. These adhesions can attach tissues and organs together and can cause problems with the organs around the womb. Additionally, the condition can also cause cysts – otherwise known as endometrioma – to form on the ovaries. They contain brown fluid and may not cause any discomfort or pain, sometimes only being discovered during routine internal examinations, but if they burst they can be very painful and form adhesions.
Some people with endometriosis have no symptoms at all, but for others, they frequently experience severe pain. The main symptoms include:
Pelvic pain
Back pain during periods.
Changes to periods – such as irregular or heavy periods
Pain during sex
Painful bowel movements
Fatigue and tiredness
Problems getting pregnant
Infertility
For those with endometrium on the bowel or bladder, it can cause swelling in the lower abdomen, blood in the faeces
The exact cause of endometriosis is unclear - any woman can be affected and it does run in families, but once the menopause is reached, it improves.
Endometriosis and Fertility
If you're affected by endometriosis, your chances of becoming pregnant are likely to be reduced, although it doesn't mean you won't be able to get pregnant at all. In many cases, women have no idea they have it until they start trying for a baby and pregnancy doesn't happen, then it's picked up in medical checks.
There's currently no cure for the condition, but there are various treatments available, depending on your age, severity of symptoms and whether you're keen to have children. Painkilling drugs can help control the pain for some people and hormonal treatment that aims to reduce the amount of oestrogen in your body can ease symptoms.
However, for some people the best course of treatment is surgery. If you want to try and conceive, then it's possible to remove the endometriosis whilst still enabling you to have children. There are various ways of doing this, such as using laser heat to destroy it through key hole surgery, or by making a larger incision and cutting away the endometriosis. Even after an operation, it can come back and you may need further treatment to try and keep the symptoms at bay. In some instances you may need to subsequently go on and have fertility treatment as well.
You might also like...
I have 12 year old twin daughters. The past 12 years i have not taken any contraception, however i simply can not conceive. I was diagnosed with endometriosis several years ago. I habe had two laproscopy operations. One to diagnose, the other to remove chocolate cysts. I am still yet to conceive. Is there anything else that can be done for me? Kind regards Rachael
twinnies
- 1-Jul-13 @ 10:46 PM