What Can You do Prior to Seeing a Specialist?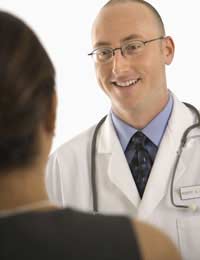 Often, the initial evaluation for fertility is preformed by the primary care doctor. However when exploring options for specific fertility treatment it is best to seek the advice of a trained medical professional who can understand your unique situation and needs. Consulting a fertility specialist can provide professional insight which can be used to make important decisions.
In our present day health care system visiting a specialist is a process in and of its own. Deciding who to see and getting an appointment can sometimes take weeks and even months. Prior to the all important visit, it is best to go in as prepared as possible to get the most out of the visit. So prior to a specialist visit it is best to go prepared.
Ovulation Assessment
Ovulation assessment is an important step in the process of infertility. It can be assessed by testing the basal body temperature or buy using home ovulation kits. Since fertility is greatly dependent on ovulation, the ovulating cycle is a simple indication about the health of the eggs. If a female partner's ovulating cycle is irregular, it sometimes indicates that there might have been a problem in the female reproduction system. So before going to the doctor, one should have an idea about their ovulation status.
Checking the quality of the semen is also important in the fertility evaluation. Although a proper evaluation will be required in the laboratory, one can personally examine the contents for any discolourations, blood and even the amount. The amount will depend on the number of times one has ejaculated, so it is best to do so after 2-3 days of abstinence. Normal volume should be between 2.5 to 5 ml.
Impotence
Impotence is one of the causes of infertility that can be easily detected at home. If a male partner is not able to attain an erection adequate for sexual intercourse or if the erection is not sustainable, it is known as impotence. The person himself is the best judge of whether he is impotent or not.
Varicocele is the condition under which the varicose veins present around the testicles get enlarged. This results in the increase in the temperature of the testicles so can lead to infertility. This condition can be judged by a person himself as the person may feel something like a bag of worms present around the testicles. This finding can help guide the fertility specialist to the diagnosis more rapidly.
Decreased calorie intake also plays a vital role in the fertility process. Maintaining a low body weight ie <85% of Ideal body weight, can cause hormonal changes. These changes can effect the menstrual cycle leading to anovulation thus impairing ones ability to get pregnant. Reduced weight decreases the production of GnRH which ultimately controls the ovulation process. Reduction in GnRH makes the ovulation irregular or causes it to cease.
By performing some basic fertility evaluations at home, one can often provide vital clues to the cause of infertility. These findings can guide the clinician and can help to appropriately confirm the diagnosis. It is also best to be somewhat familiar with treatment options, so that you are not confused or overwhelmed. Do not be afraid to ask questions with regard to treatment alternatives and especially side effect profiles.
FERTILITY EXPERT IS FOR SALE.
This website is for sale [more info].
You might also like...