General Medical Problems That Can Lead to Infertility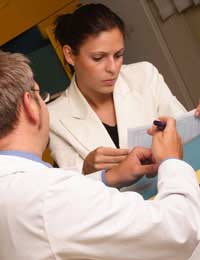 There are many different reasons as to why Infertility may be a problem for a couple when they are trying for a child most of them deeply rooted in previous medical problems which – although having been dealt with and treated – can have a long lasting affect.
Chlamydia
One of the most common reasons for Infertility – in both men and women – is: Chlamydia trachomatis. Chlamydia trachomatis is a sexually transmitted disease that has – in recent years –reached dangerous levels particularly in the age group 18-25.
Chlamydia – as it is more commonly known – is a bacterium that attacks the female's fallopian tubes and can lead them to scar or to become blocked, the overall result being infertility.Likewise it has now become known that Chlamydia also affects the male and can have a debilitating effect on his sperm. Men who contract the condition from an infected partner also risk passing it on through unprotected sex without actually knowing they have it themselves.
Other Problems
Miscarriage is another way in which a female can become infertile. There are occasions when a miscarriage will damage the fallopian tubes, the womb or the ovaries and may leave her unable to conceive again.
In men there are a number of different factors that can contribute to infertility. One of the most common, yet still relatively unknown, is Retrograde Ejaculation: this is the condition whereby the semen flows backward into the bladder as opposed to following its designated route out of the penis.
There are also infections such as Prostatitis – an inflammation of the prostate gland, which can it not treated, lead to painful urination and ejaculation and in some instances infertility.
It is important to speak to your GP if you think any of these issues may apply to you and likewise it is important to discuss them with your partner. In many relationships where the couple are trying to conceive the common misconception is that, if conception does not occur, the female is the one with the problem.This is simply no longer the case and advances in medical science now allow us to test both men and women for infections, abnormalities and bacterium that may lead to infertility.
Again discussing these issues with your GP in the first instance will help both parties come to understand what the possible problems can be and what can be done about them.
Seeing Your GP
It is again important to understand that the reasons for infertility are not always immediately recognisable so some tests may be required but during this time it is a good idea – where possible – to remain calm and open minded about the outcome.
Your doctor will most likely test you and your partner for the signs of infertility and this may involve – in extreme instances – an internal examination for the female whilst the male may be expected to provide a semen sample for analysis.
These tests are normally painless and the results returned quickly so that the anxiety and obvious stress are kept down to a minimum.
Also it is worth noting that when consulting your GP about any possible infertility, it is essential that you give them as much information as you can with regard to diets, alcohol intake, drug intake and anything else which you may feel is relevant.
You might also like...