Hormone and Semen Analysis Tests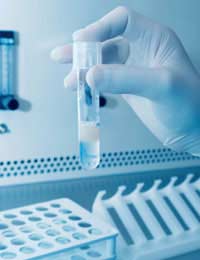 For couples facing problems with fertility, it is just as important for the male partner to undergo a medical evaluation, as it is the female. In fact the male factor accounts for approximately one out of every three cases of infertility.
The initial evaluation in males usually involves a history and physical examination as well as a semen analysis. A semen analysis, assess the semen (which is the fluid medium through which sperm travel). The information gathered during the initial evaluation, will often guide further evaluations with more specialised tests.
Hormone levels are another source of information, which can offer important clues regarding male infertility. Hormone levels are helpful in determining deficiencies of the male reproductive system that may be caused by abnormalities in remote organs such as the adrenal glands, or the pituitary gland.
Semen Analysis
A semen analysis is preformed by collecting a specimen of ejaculate after a two to four day period of abstinence. A two to four day period of abstinence, allows the male reproductive system time to replenish sperm that were expelled as a result of earlier sexual activity. By accounting for such variations, a more accurate picture of the male reproductive system can be obtained.
Usually, a doctor can piece together clues and risk factors from the medical history, and correlate them with abnormal parameters of the semen analysis, to develop a presumptive diagnosis. A semen analysis is usually the initial test in a male fertility evaluation; it can assess the sperm for quality and quantity. This simple non-invasive procedure, analyses the semen for sperm concentration, sperm motility, sperm morphology and various other parameters listed below.
Normal parameters
Volume – 2-5 ml
Ph- 7.2 –7.8
Sperm Concentration – 20M/ml
Sperm Motility- >50%
Sperm Morphology- >50%
WBC- <1 Million wbc/ul
(Adopted from the World Health Organisation)
Hormone Tests
After a semen analysis, a test of reproductive hormone levels may be preformed to check for abnormalities within the endocrine system. The endocrine system is a highly complex system that regulates many of the vital functions of the human body including reproduction. This system is under tight regulatory control from higher centres in the brain; but it involves various peripheral organs as well such as the adrenal glands. These glands are responsible for producing sex hormones such as, FSH and luteinizing hormone which can in turn effect sperm production. Hormone level abnormalities can provide insight to such defects and serve as the rationale for further testing. Depending on the hormonal abnormality, further tests may be carried out to help establish a confirmed diagnosis.
Although the male fertility evaluation is not limited to a semen analysis or hormonal testing, these simple procedures serve as a stepping stone for further fertility evaluations. Results from these tests can provide clues regarding the underlying pathology. Hormone levels can assess the reproductive endocrine function; low levels of key hormones can impair sperm production and result in infertility. By isolating the underlying cause of infertility, one can begin exploring treatment options. Treatment options may be as simple as lifestyle modifications or they may highly specialised, involving complicated procedures.
You might also like...
John2Boyd, Just wanted to you know that your sperm count is normal, however, just from reading your motility, that is bad.Basically motility represents how your guys move, which is needed for them to travel to the egg of the woman you are trying to procreate with.If you only have 1% motile sperm, then most of your guys are dead.Something, perhaps exposure to like radiation or lack of wearing boxers, is killing your guys.So hence, more than likely you and your significant other won't be able to get pregnant until a doctor helps you with this.You also have 90% abnormal morphology.Again, if your sperm is not normal, this is yet another reason that you won't be successful with impregnation.Sorry about the bad news but I'm sure a fertility doctor will help you.They'll continue to do testing after treatments.Take care and good luck!
Can someone help me to understand my sperm report please as I'm dyslexic and find it hard to understand it. Spermatazoa Concentration 102.5 Mill/ml 20 - 99999 Motile 51% 49 - 99999 Non-Progressive 1% Immotile48% Normal Morphology10% 4 - 9999 Adnormal Morphology 90% Head Defects 4% Mid-Piece Defects4% Tail Defects4%
john2boyd
- 25-Mar-11 @ 5:58 PM