Laparoscopy and X-Ray Tests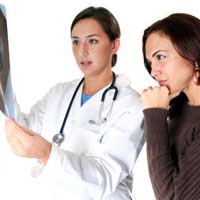 Undergoing surgery for your gynecological condition may be daunting and stressful. Will it be painful? How long will I be in the hospital for? Will there be any significant scarring? These are just some of the many questions which may flood a woman's mind when she considers surgery as an option for her gynecological conditions.
Modern techniques, have improved diagnostic and treatment options whilst relieving some of the fears and stress associated with the doctors visit. Even the simple X-ray test has undergone enhancements. Through the advent of contrast dyes, x-ray images show crisp sharp images which help drive home a definitive diagnosis.
Laparoscopy also referred to as "Minimally Invasive Surgery", can significantly reduce hospital stay, scarring and even the risks involved in performing surgery. Hysterectomies, tubal ligations and tumor resections are among the examples of conditions routinely being treated by laparoscopy. More and more diseases affecting female reproductive structures are now being treated through the use of laparoscopic surgery, rather than conventional surgery (the traditional "scalpel" method).
X-Ray Tests
The standard X-ray has undergone major enhancements over the recent years. Through the use of contrast dyes which can highlight the structures in question, the images have become clearer and more useful then ever before.
Special radioactive dyes can be dispelled into hollow structures such as the uterus, fallopian tubes, and even the bladder. An X-ray image is taken soon after to visualise, areas of blockage or improper drainage of the fluid. These new enhancements can help isolate, tumors, fistulas (cul-de-sac), and even tears as a result of trauma.
Symptoms of pain and the physical exam can often resemble one another from one disease process to the next. These new x-ray techniques provide an objective and definitive approach towards a diagnosis.
As with many conditions, early diagnosis can lead to reduced complications, uncertainty and most of all the pain associated with certain conditions.
Laparoscopy
Laparoscopic surgery or MIS (Minimally Invasive Surgery) is a technique where a small incision is made near the affected area and a laparoscope is inserted through the skin. A laparoscope is simply a thin and flexible camera that can snake through the body to surgical site.
Since it is so thin and small, the surgeon only needs to make a 0.5-1.5 cm incision to fit the laparoscope. This minimises post-operative pain and reduces healing time. In addition, scarring is reduced, and the risk of infection is significantly decreased, because less of the body is exposed during the procedure. Laparoscopic surgery is often recommended for the diagnosis of particular gynecological conditions, such as tubal ligation, ovarian cysts, fibroids and endometrial cancers.
Advances in modern medicine have led to the development of improved techniques in both treatment and diagnosis. With the aid of special contrast dyes, certain conditions can be diagnosed quickly and with greater certainty. This facilitates improved treatment through an earlier hospital course, reduced risk of complications, and earlier returns to daily functioning. Laparoscopy offers advantages over traditional methods by reducing scarring, complications, and decreased length of hospital stay. This has truly revolutionised surgical medicine and is now becoming the standard method of treatment for more and more surgical procedures.
You might also like...