Fertility Tests for Men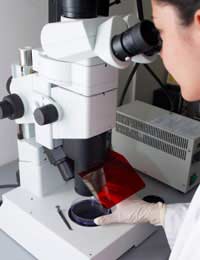 Male fertility is one of the most common causes of infertility accounting for nearly 1/3 of the cases. For couples facing problems with fertility, it is just as important for the male partner to undergo a medical evaluation, as it is the female. The initial evaluation in males usually involves a thorough history and physical exam and a semen analysis. The information gathered during the initial evaluation, will often guide further evaluations with more specialised tests, such as hormone levels, testicular biopsies, genetic testing, and even immunological testing. Male infertility can be attributed to a myriad of causes, some of which are irreversible, and these tests serve as a valuable resource for unveiling the causes of infertility.
A thorough history and physical can offer vital clues, which can often lead to a specific cause for infertility without the use of expensive and invasive tests. Thus it is important to disclose any and all vital information pertaining to the medical history. A semen analysis is the initial test in a male fertility evaluation; it can assess the sperm for quality and quantity. This simple non-invasive procedure, analyses the semen for sperm concentration, sperm motility, sperm morphology, and various other parameters listed below.
Normal parameters
Volume – 2-5 ml
Ph- 7.2 –7.8
Sperm Concentration – 20M/ml
Sperm Motility- >50%
Sperm Morphology- >50%
WBC- <1 Million wbc/ul
(Adopted from the World Health Organisation)
This test is preformed by collecting a specimen of ejaculate after a 2-4 day period of abstinence. Usually, a physician can piece together clues and risk factors from the medical history, and correlate them with abnormal parameters of the semen analysis, to develop a presumptive diagnosis.
Ultrasound and Vasograph
Azospermia, (absence of sperm production), and oligospermia, (low sperm production) are conditions often reviled by a semen analysis). Azospermia can be due to defects in sperm production by the testes, or out flow obstruction caused by blockage within the male reproductive tracts. Regardless of cause, further testing will be required to isolate the true cause.
In conditions where outflow obstruction may be involved, the doctor may require an ultrasound; a special device which can detect sound wave patterns of internal vessels. Discrepancies in these sound wave patterns can help isolate areas of obstruction. Vasography is also used to detect obstruction, but this test is more invasive. It uses radioactive dye, which is injected into the Vas deferens, (conduits that transport semen). An X-Ray is then taken to examine the vas deferens for patency. The radioactive contrast dye helps illuminate the structure in question (in this case the vas deferens). If these tests are negative, or if testicular dysfunction is suspected, a testicular biopsy may be considered. The biopsy procedure is done under localised anaesthesia, and involves probing the testicles for tissue samples. These samples are then examined under the microscope to assess the functionality of the sperm producing cells.
Hormone Testing
Blood tests for reproductive hormone levels are also a valuable source of information. They can help isolate a fertility problem due to endocrine abnormalities. The important male reproductive hormones include Testosterone, Lutenizing Hormone (LH), and Follicle stimulating Hormone (FSH). These hormones play important roles in the male reproductive process; deficiencies in each can greatly impact a man's fecundablity (reproductive potential).
Genetic Testing
Chromosomal abnormalities are an important cause of infertility, and need to be explored in the presence of risk factors. Genetic testing can offer a valuable tool of detecting such defects. Klinefelter's syndrome is a chromosomal abnormality specific to males. In this condition the person is infertile as a result of an extra Y chromosome. Normal males possess one X chromosome and one Y chromosome (XY), men with Klinefelter's however possess one X and two Y-chromosomes (XYY). This unique configuration leads to an abnormal reproductive system, that isn't functionally capable of fertilisation. Genetic testing can help map out the chromosome configuration and detect this trisomy (three chromosomes).
Immunobead Testing (IBT)
In rare cases, infertility can be attributed to the body's own destruction of sperm cells. The female immune system can recognise the sperm cells as a foreign object and mount an immune system mediated attack. This can lead to sperm destruction and severely effect fertility. This condition although rare can also occur in males. Individuals, who possess a sensitive immune system, can develop antibodies to their own sperm. An immunobead test can help detect such "anti-sperm" antibodies, and offer an explanation to infertility in such individuals.
The armamentarium for male fertility testing is diverse and highly specialised. Despite these expensive and elaborate tests, the foundation of male fertility evaluation is still embedded in a complete medical history and initial semen analysis. These results will serve as the roadmap to further testing, and thus avoid unnecessary procedures.
You might also like...