Fertility Tests for Women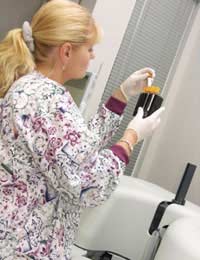 For women facing problems with fertility, certain tests are available to assess their reproductive capacity. The female reproductive system is highly complex involving numerous organs, and hormones. Fertility tests are available to assess both aspects of the female reproductive system; blood tests can assess hormonal levels, whilst ultrasound devices, X-rays, contrast dyes, and MRIs can create images of internal structures with pinpoint accuracy.
Despite the advances in modern medicine however, the history and physical exam still remains a vital component in fertility evaluation. A detailed medical history and appropriate physical exams, can offer clues which can help filter out unnecessary tests and select those which will lead to a likely diagnosis.
In women, the fertility evaluation begins by assessing the menstrual cycle. This monthly cycle, which is divided into 4 overlapping phases, follicular phase, ovulation, luteal phase and menstruation, serves as the workhorse for fertility. Of these four phases, ovulation is the most important. During this short phase, an ova (egg) is recruited and released into the fallopian tubes.
Ovulation is under the control of the reproductive hormones LH and Oestrogen. Fertility kits are available which can detect these hormonal changes and determine the onset of ovulation. In most women this often serves as the initial test since it is simple, non invasive and relatively inexpensive. Testing for ovulation can offer vital clues to both the hormonal response as well as the functionality of reproductive organs such as the ovaries.
The female reproductive environment can be inhospitable for sperm, and may be a cause of infertility. A post coital test can assess the female reproductive environment, by examining the cervical mucus, which is the medium through which sperm travels. Cervical mucus undergoes changes during ovulation, which facilitate sperm motility. Some of the parameters assessed by the post coital test are listed below:
Parameters for Post Coital Testing
Presence of viable sperm
Spinnbarkeit (mucus viscosity)
Ferning patterns upon drying
During ovulation, the cervical mucus is clear, watery and less viscous. Spinnbarkeit is the medical term used to describe the stretching ability of the cervical mucus and normal values are greater then 2 inches. The doctor performs this test in the office within 8 hrs of sexual intercourse. Timing is crucial for this exam.
Age and Fertility
Age is another important factor that can impact fertility. Recent advances in fertility research have led to the development of tests, which can access the functional quality of ovarian follicles to help determine ovarian reserve. These tests offer a more precise measure of a woman's reproductive capacity, based on hormonal levels FSH (follicle stimulating hormone) and Oestrogen, during specific intervals of the menstrual cycle.
One test is called the day 3 FSH and Oestradiol test, because it measures the level of these hormones on the third day from the last menstrual period (LMP). Oestradiol is the type of oestrogen which predominates in the reproductive female. Elevated levels of these hormones, is a poor prognostic sign and it implies that the follicular function has deteriorated. Ideally the follicles should be stimulated to produce inhibin, a hormone that completes a negative feed back loop, leading to a decrease in FSH and Oestrogen.
A specialised version of this test called, the Clomiphene Citrate Challenge test (CCCT), challenges the follicles after the infusion of clomiphene. Clomiphene is a compound, which stimulates the ovarian follicles and is administered over a 3-5 day period after which hormone levels are measured again on the 10th day. If even after this trigger, the hormones FSH and oestrogen still remain elevated, then it reinforces the poor prognosis.
Other tests and procedures are also involved to get a complete picture of ovarian reserve. A woman's response to these tests and procedures is based on various factors, and can vary from age to age.
Other Tests
Other tests though not routine, are often used for fertility assessment when clinically indicated. For example an endometrial biopsy may be done to rule out abnormalities of the uterine lining. Specialised X-rays, which use contrast dyes, are used to evaluate the fallopian tubes. Ultrasound devices, MRIs, and CT scans can also be used to create images of internal organs, which are involved in fertility.
The armamentarium of tests, used to assess female fertility, spans the spectrum from simple to extremely complicated. Despite such tests, the history and physical examination remain crucial in fertility assessment. They can help avoid unnecessary procedures that are expensive, time consuming and often stressful. When discussing issues relating to fertility it is important to remain honest, and detailed when describing your medical history.
You might also like...